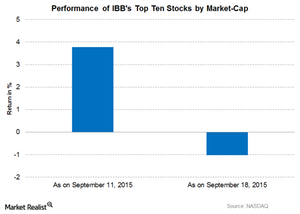 Regeneron and Mylan End Up in Green for the Week
By Peter Neil

Updated
Regeneron and Mylan outperform the top ten stocks
Going by market cap, within the iShares Nasdaq Biotechnology ETF (IBB), the top ten stocks underperformed IBB with an average return of -1.03% as compared to IBB's return of 0.57% for the week ended September 18, 2015. The combined weight of these stocks stood at 56.59% of IBB's portfolio.
Article continues below advertisement
Regeneron and Mylan outperform
Among the top ten stocks, only Regeneron Pharmaceuticals (REGN), Mylan NV (MYL), and Illumina (ILMN) ended positively. Vertex Pharmaceuticals (VRTX) was the biggest loser with -7.38%.
REGN gained 3.20% for the week ended September 18, 2015. The stock went up on high trading volumes. The stock is recovering from its recent low of $499 on September 4. The five-day trading average stood at ~653,833 shares per day. REGN closed at $550.36 and was trading above its 20-day, 50-day, and 100-day moving averages. REGN has a weight of 7.26% in IBB.
Mylan (MYL) gained 1.93% as it officially began its offer to acquire Perrigo (PRGO). Under the terms of the offer, PRGO shareholders will receive $75 in cash and 2.3 MYL ordinary shares for each PRGO common share. Also, MYL launched its first generic version of Novartis Lescol XL tablets. MYL has a weight of 5.21% in IBB.
On the other hand, Vertex Pharmaceuticals (VRTX) went down by 7.38% on the news that Levi & Korsinky initiated an investigation into the possible breaches of fiduciary duties by the Vertex board. Also, there were opinions from Piper Jaffray that VRTX will not fit into Gilead Sciences' (GILD) long-term goals and thus there is a very low probability of GILD acquiring VRTX. VRTX has a weight of 4.08% in IBB.