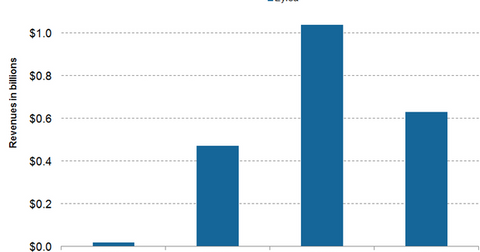 Regeneron Enters into a Collaboration with Bayer HealthCare
By Margaret Patrick

Sep. 10 2015, Updated 11:06 p.m. ET
Market expansion
In addition to label expansion, Regeneron (REGN) is also focused on launching its eye disease drug, Eylea, in international markets. Since its launch, about 3 million Eylea doses have already been delivered to patients around the world.
The graph below shows Regeneron's share of profits from Eylea's sales outside the US. Regeneron has entered into a collaboration agreement with Bayer HealthCare to market Eylea outside the US.
Article continues below advertisement
Regeneron collaboration with Bayer HealthCare
In October 2006, Regeneron entered into a collaboration agreement with Bayer HealthCare for the development and distribution of Eylea in markets outside the US. Excluding the Japanese market, Regeneron and Bayer HealthCare share equally the profits and losses obtained from Eylea's sales.
Regeneron receives a tiered percentage ranging from 33.5%–40% of Eylea's sales in Japan. Regeneron also shares 50% of the total development costs incurred by Bayer HealthCare for Eylea.
Eylea international approvals
Bayer has aggressively launched Eylea in various international markets for different types of indications, ensuring substantial profits from the blockbuster drug. Eylea has been approved in more than 80 countries for neovascular age-related macular degeneration (or wet AMD). The drug is also approved in about 60 countries for Macular Edema Following Central Retinal Vein Occlusion (or CRVO).
In September 2012, Eylea was approved by the Japanese Ministry of Health, Labour, and Welfare (or MHLW) for wet AMD. According to the Hisayama study in Japan, the prevalence of AMD is about 1% of the total population above 50 years age. With about 26% of Japan's total population of 127.3 million older than 65 years, the country offers a substantial opportunity to Eylea for AMD. In November 2013, Eylea was also approved in Japan for CRVO.
Article continues below advertisement
Eylea is currently offered in over 30 countries for diabetic macular edema (or DME). The drug received an approval for treating DME from the European Commission in August 2014. This was followed by the drug's approval in the Japanese market for myopic choroidal neovascularisation (or myopic CNV) in September 2014. According to Regeneron, "Myopic CNV is a disease of the retina where new, abnormal blood vessels grow into the retina in persons who are severely myopic (typically more than minus six diopters)."
Plus, Bayer HealthCare has several pending applications in many countries, seeking approval for Eylea's expanded indications. The strong international market strategy, coupled with continued label expansion, has made Eylea a prominent competitor to drugs such as Roche's (RHHBY) Lucentis and Avastin, Novartis's (NVS) Visudyne, and Pfizer's (PFE) Macugen.
Investors can get diversified exposure to Eylea's international market strategy, yet avoid unique company risks, by investing in the iShares NASDAQ Biotechnology ETF (IBB). IBB holds 7.34% of its total holdings in Regeneron.