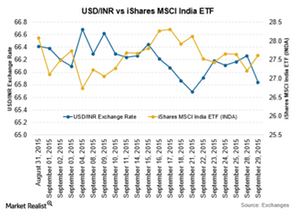 RBI Cuts Rates by 50 Basis Points to 4.5-Year Low of 6.75%
By David Meyer

Updated
RBI surprises markets with aggressive move
The Reserve Bank of India (or RBI) surprised market participants and commercial banks by cutting interest rates by 50 basis points in its monetary policy review on September 29, 2015. The rate cut has taken the repo rate by the RBI from 7.25% to 6.75%, thus reducing borrowing costs further and increasing the borrowings in various asset classes.
This year, the RBI has been involved in three rate cuts of 25 basis points each, gradually bringing down the borrowing cost to expand credit in the country. Transmission of the rate cuts by commercial banks has been an issue, as a considerable lag is present between the lowering of interest rates by the RBI, the effect getting transmitted to banks, and the benefit actually getting materialized. The Indian rupee saw some strength against the US dollar, gaining 0.65% by the end of the day on Tuesday.
Article continues below advertisement
Low inflation and global slowdown were important drivers
The RBI cited global slowdown as a driver towards the easing in the monetary policy. Also, consumer inflation levels in August hit a record low at 3.66%, and the RBI expects it to remain within its January 2016 target of 6%. The RBI also set a new inflation target for March 2017 of 5% and cut its growth forecast for the gross domestic product (or GDP) for the current fiscal year from 7.6% to 7.4%.
The rate cut is also expected to provide a boost to the manufacturing sector, which has been reeling under pressure as major emerging economies have been fighting with a decline in commodity prices and a slowdown in China. In order to attract further foreign investments, the RBI announced a stage increase of $18.2 billion in the cap for foreign investments in government bonds from the current limit of $30 billion. The rise is expected to happen in stages and materialize by March 2018.
Impact on the market
The optimism surrounding the 50 basis point rate cut by the RBI caused a lot of indices to close on a higher note on September 29, 2015. The iShares MSCI India ETF (INDA) rose 1.51% while the iShares India 50 ETF (INDY) grew by 1.58%.
The Indian ADRs (American depository receipts) had a positive day as well. Infosys Limited (INFY) recorded a rise of 1.18%. Banking ADRs were also trading on a higher note as HDFC Bank Limited (HDB) ended higher by 3.35% while ICICI Bank Limited (IBN) closed on a positive note by 1.34%.