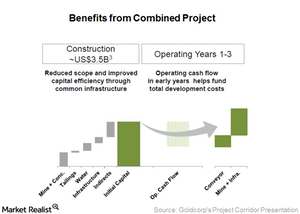 Does Project Corridor Joint Venture Make Strategic Sense?
By Anuradha Garg

Updated
Synergy benefits
Goldcorp (GG) announced an agreement to combine its El Morro project with Teck Resources' (TCK) Relincho to form a single project called Project Corridor. In this article we'll discuss the main benefits from combining the two projects.
Article continues below advertisement
Benefits of combining the two projects
Environmental benefits: A single project will create a smaller environmental footprint by allowing for a shared infrastructure. For example, having a single desalination plant, a single port, a single transmission line, a single concentrator, and a common tailings facility would save on costs as well as the environmental footprint. This will substantially reduce the risks associated with projects in a challenging environment and environmentally sensitive areas such as Chile.
Lower costs: A phased development approach will reduce the initial capital requirements. The initial capital cost for the combined project is estimated to be $3.5 billion. The further capital required can be funded from a project's cash flows. On an individual basis, it would have been very difficult to go ahead with these two projects. The standalone costs for Goldcorp's (GG) El Morro and Teck Resources' (TCK) Relincho projects were estimated to be $3.9 billion and $4.5 billion, respectively.
Optimized mine plan: The integrated project will optimize both the resources in such a way that the combined mine life would be approximately 32 years, with a scope for further extensions. Initial capacity is expected to be in the range of 90,000-110,000 tons per day to produce approximately 190,000 tons of copper and 315,000 ounces of gold per year for the first ten years.
Community benefits: Project Corridor is also expected to provide economic benefits. For example, according to Goldcorp, an estimated 4,000 jobs will be created during the construction phase and 1,400 jobs during operation.
Project Corridor is a good example of developing challenging projects
Project Corridor is quite a good example of combining strategies to reduce the capex and bring big projects online in a challenging commodity price environment. In the past, many miners have had to stall projects due to regulatory issues due to environmental impact and capital overruns, such as Barrick Gold's (ABX) Pascua-Lama project. These combinations are instrumental in reducing the environmental footprint and costs, both of which are even more important in the current weaker commodity price environment.
Investors can get access to the gold sector by investing in the VanEck Vectors Gold Miners ETF (GDX), which invests in intermediate and senior gold producers. Goldcorp makes up 7.6% of its holdings. The SPDR Gold Trust (GLD) tracks spot gold prices.