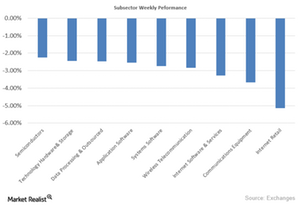 PowerShares QQQ's Subsectors Generate Negative Returns
By Parker Thomas

Nov. 20 2020, Updated 12:16 p.m. ET
Overview
In this series, we'll cover the performance of the heavily overweight tech stocks within the broad technology sector and will track the weekly performance of the PowerShares QQQ Trust (QQQ) as well as its components. QQQ closed at $102.16 with a return of -1.19% on Friday, September 4, 2015, generating a loss of 3.28% for the week.
From August 31 to September 4, 2015, the technology sector remained worse, pulling all sectors down. The iShares S&p 100 ETF (OEF), the Russell Top 50 ETF (XLG), the iShare Russell Top 200 ETF (IWL), and the Mega Cap 300 ETF (MGC) generated -3.48%,-3.03%,-3.33%, and -3.24%, respectively.
Article continues below advertisement
Weekly subsector performance
Internet Retail is the worst performing subsector of the QQQ ETF, which generated a return of -5.14% for the trailing five days. Within this sector, Netflix (NFLX) generated a return of 16.02%, Amazon (AMZN) generated a return of -3.67%, and Priceline Group (PCLN) generated a return of -1.12%.
The next worst performing sector was Communications Equipment, generating a return of -3.67%. Notable companies in this sector are Qualcomm (QCOM) and Cisco System (CSCO), which showed returns of -5.50% and -1.85%, respectively, for five days trailing.
Internet Software and Services generated a loss of -3.29%. Yahoo (YHOO) and Google (GOOG) were the worst performing stocks of Internet Software and Services, generating returns of -4.71% and -4.71%, respectively, for the trailing five days.
Market updates
Netflix's partnership with Vodafone (VOD) will allow Netflix to broadcast a wide variety of entertainment, including exclusive series, films, and documentaries through their set-top box in Spain. Using the Netflix App Vodafone TV, customers will be able to enjoy the service on smartphones and tablets, and apps for the service will be easily available the app store.
In related news, Amazon (AMZN) plans acquire Elemental Technologies, a pioneer in software-defined video solutions. As the media industry is rapidly moving toward an internet-based delivery model, this acquisition should help media and entertainment companies deliver videos in a more efficient and economical way.
In the next part of this series, we'll look at Avago Technologies' (AVGO) earnings in the most recent quarter.