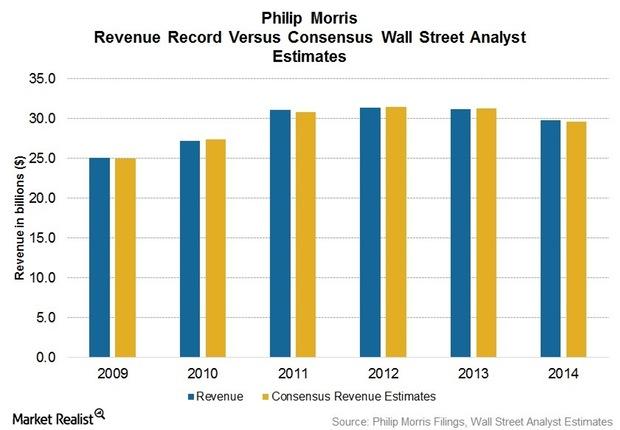 Philip Morris's Spin-off from Altria, with New Collaborations
By Penny Morgan

Sep. 12 2015, Updated 3:06 p.m. ET
The spin-off
On March 2008, Philip Morris International (PM) split from its parent company, Altria Group (MO). Prior to the spin-off, Philip Morris was a wholly owned subsidiary of Altria, until Altria distributed all its shares in the subsidiary company. As part of the spin-off agreement, Altria still sells Marlboro exclusively in the US, while Philip Morris sells Marlboro internationally.
Article continues below advertisement
Collaborations and agreements
After the spin-off, in 2013, both companies began to collaborate, combining their marketing powers to revamp the distribution of their e-vapor products. Under this strategic framework, Philip Morris is exclusively licensed to commercialize Altria's MarkTen e-cigarettes internationally, while Altria is exclusively licensed to commercialize two of Philip Morris's RRPs (reduced-risk products) in the US. (To learn more about RRPs, read Part 10 of this series.)
The agreement between Altria and Philip Morris also requires both companies to cooperate mutually with FDA (Food and Drug Administration) regulatory engagements related to heated tobacco products, as well as with international regulatory authorities related to e-vapor products.
In the remainder of 2015, Philip Morris plans its own foray into the e-cigarette business. Other companies like Reynolds American (RAI), British American Tobacco (BTI), and Imperial Tobacco Group (ITYBY)—which produce VUSE, Vype, and blu eCigs, respectively—already have a growing presence in the e-cigarette market, due to the threat of declining volumes of traditional cigarettes. (Imperial Tobacco recently acquired blu eCigs from Lorillard Tobacco Company in Reynolds American's acquisition deal with the latter company).
Expanding collaboration
More recently, following a spree of acquisitions from peer companies, Altria and Philip Morris have expanded their e-vapor development deal to include joint research, development, and a technology-sharing framework for unconventional cigarettes. This expanded agreement includes exclusive technology cross-licenses, technical information sharing, scientific assessment cooperation, regulatory engagement, and approvals related to these products.
Philip Morris has exposure in the iShares S&P 100 ETF (OEF), with 1.1% of the portfolio's total weight.