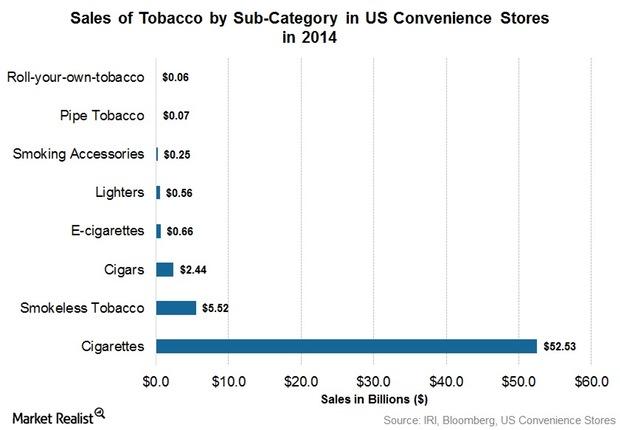 Philip Morris's New Innovative Products in the Reduced-Risk Tobacco Market
By Penny Morgan

Sep. 12 2015, Updated 3:06 p.m. ET
Research and development for innovation
Philip Morris International (PM) now develops innovative engagement tools for adult smokers based on the latest technologies and adult smoking trends. Subject to highly competitive business conditions, the company has widened its focus to include innovations in product quality, taste, packaging, marketing, and advertising.
Article continues below advertisement
E-cigarette innovation versus peers
According to Statisa, e-cigarettes sales grew to $0.66 billion in the US in 2014. In 2013, Philip Morris joined its former parent company, Altria Group (MO), to test market an e-cigarette called MarkTen. Competitors like British American Tobacco (BTI), Reynolds American (RAI), and Vector Group (VGR)—which produce the e-cigarettes Vype,Vuse, and Zoom, respectively—have already entered the RRP (reduced-risk product) market in order to meet consumer expectations. In July 2014, Imperial Tobacco Group (ITYBY) bought Lorillard Tobacco Company's popular e-cigarette, blu eCig, when Reynolds American's acquired Lorillard.
Philip Morris is also conducting research and development on technology platforms that could potentially lead to alternative uses of tobacco, such as the production of therapeutic molecules.
Future innovative strategies
Philip Morris currently has four RRP platforms in different stages of development:
Platform 1 develops heat-controlled tobacco sticks called iQOS, which have already been commercialized.
Platform 2 uses carbon heat to generate an aerosol by heating tobacco, an initiative still in the pre-clinical phase.
Platform 3 creates an aerosol from nicotine salt, which is formed by the chemical reaction of nicotine—one type using electronics, and one type not. Philip Morris has begun pre-clinical testing of this product.
Platform 4 covers e-vapor products, which are in the process of being commercialized.
Philip Morris aims to develop, access, and commercialize this portfolio of innovative products, which contain tobacco and nicotine but have the potential to reduce the individual risk and population harm caused by smoking combustible cigarettes.
Philip Morris has exposure in the iShares S&P 500 Growth ETF (IVW), with 0.7% of the portfolio's total weight as of August 14, 2015.