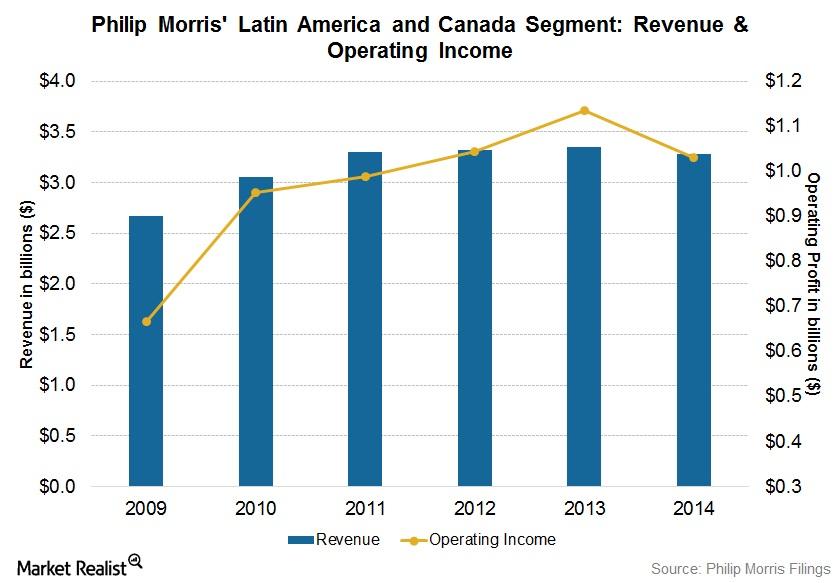 Philip Morris's Low 2014 Volumes in Latin America and Canada Segments
By Penny Morgan

Dec. 4 2020, Updated 10:53 a.m. ET
Decrease in sales and operating profit
In 2014, Philip Morris International's (PM) Latin America and Canada segment reported net revenues totaling $3.3 billion, excluding excise taxes—a 2.3% decline compared to 2013. After excise taxes, the segment's net revenues decreased only 1.8%. This decline was due to the impact of adverse foreign currency movements, which accounted for $0.4 billion, and unfavorable volumes and product mixes, which accounted for $0.1 billion.
Article continues below advertisement
The Latin America and Canada region contributed 11% of the company's total revenues in 2014, the lowest among its regions. Operating income for the region decreased by 9.2% to $1 billion, compared to $1.1 billion in 2013. This decline was primarily due to unfavorable currency movements and higher marketing and research costs. The operating profit of this segment contributed 8.5% of the company's total operating profit.
Lower volumes
The cigarette shipment volume decreased by 2.7% in this region due to lower total market shares in Canada and Mexico. In Canada, the cigarette market decreased due to the impact of both federal and provincial tax-driven price increases during the first half of 2014. However, global flagship brands like Japan Tobacco's (JAPAF) Winston and Reynolds American's (RAI) Newport grew in popularity in Canada. Philip Morris's mid-price Canadian Classics market share also grew by 10.4% in Canada.
In Mexico, the shares of Marlboro and Benson & Hedges dropped by 2.6 and 0.3 share points, to 49.7% and 5.2%, respectively, in 2014. These declines were due to consumer down-trading and a successful roll-out of British American Tobacco's (BTI) additive-free Lucky Strike.
Defending litigations and optimizing production
Philip Morris has many smoking and health litigation cases pending in its Latin America and Canada segment, especially in Argentina and Canada. Both Philip Morris and Altria Group (MO) are fighting for successful tobacco-related litigations in Canada. Philip Morris's largest manufacturing unit of the 25 facilities in the region is located in Guadalajara, Mexico, although the company aims to establish smaller factories in the individual markets of Latin America. These factories will perform all operations, from making to packing, in an effort to optimize production.
Philip Morris and Altria have exposure in the SPDR S&P 500 ETF (SPY), with 0.7% and 0.6%, respectively, of the portfolio's total weight.