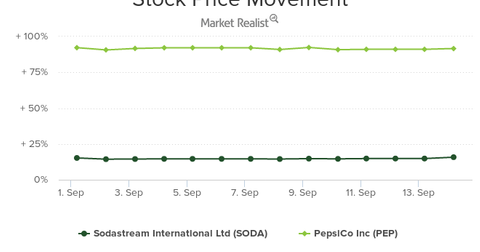 PepsiCo Extends Ties with SodaStream to Expand Home Carbonation
By Sirisha Bhogaraju

Updated
Partnership with SodaStream
After a test run in October 2014, PepsiCo (PEP) has now extended its partnership with SodaStream (SODA) to expand in the home carbonation business. According to the The Wall Street Journal, Pepsi and Sierra Mist caps will now be made available on the SodaStream home carbonation machines. Under an expanded distribution agreement, these caps can now be purchased from SodaStream's website and from ~50 Bed Bath & Beyond (BBBY) stores across the United States.
The PepsiCo flavors available on SodaStream are sweetened with sugar and natural sweetener stevia and will have ~50% fewer calories than the regular version.
The share prices of SodaStream and PepsiCo rose by 6.4% and 0.6%, respectively, following the announcement on September 11.
[marketrealist-chart id=654549]
Article continues below advertisement
Home carbonation rivalry gets intense
PepsiCo's collaboration with SodaStream follows similar deals by rivals Coca-Cola (KO) and Dr. Pepper Snapple (DPS) with Keurig Green Mountain (GMCR). Coca-Cola purchased a 16% stake in Keurig as part of a ten-year strategic partnership to codevelop the Keurig Kold home carbonation system. The Keurig Kold system is expected to be launched in fall 2015. In early 2015, Dr. Pepper Snapple also reached an agreement with Keurig to develop a selection of its brands for the Keurig Kold system.
Will the partnership help?
The aforementioned deals by the beverage giants are part of their strategy to improve the sales of soda drinks. According to Beverage Digest, US soda beverage volumes have been declining over the last decade, given the increasing awareness among consumers about the ill effects of soda beverages.
One cannot be too optimistic about the results of these partnerships, given the growing aversion toward soda drinks and a preference for healthier options. Also, the recent performance of the at-home beverage system makers has not been good. In the first nine months of fiscal 2015, which ended June 27, 2015, Keurig's revenue declined by 0.8% to $3.5 billion on a year-over-year basis, due to lower sales of Keurig hot brewers and accessories. The company expects its fiscal 2015 net sales to decline by low-single to mid-single digits compared to fiscal 2014. Keurig makes up 0.4% of the Vanguard Consumer Staples ETF (VDC) and 0.1% of the iShares Russell Midcap Index Fund (IWR).
SodaStream's revenue fell by 26.7% to $190.2 million in the first half of fiscal 2015, which ended June 30, due to currency headwinds and a slump in its soda maker sales.
In the concluding part of this series, we will discuss PepsiCo's partnership with Starbucks to expand in the Latin America market.