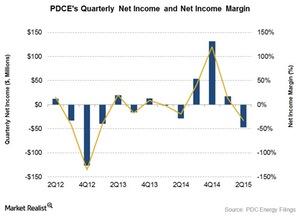 PDC Energy's 2Q15 Net Income Plummets after Spiking in 4Q14
PDC Energy's net income
How has PDC Energy's (PDCE) net income performed over the past 13 quarters? Let's find out. PDC Energy's net income has been very volatile in the past quarters, swinging wildly from extreme losses to extreme gains. More recently, after a sudden 4Q14 surge, net income has trended down.
In 2Q15, PDC Energy recorded a $47 million adjusted net loss, which included a $49 million pre-tax loss from commodity price risk management. In 1Q15, it recorded $17 million in net income.
Article continues below advertisement
PDC Energy's 4Q14 adjusted net income of $132 million was the highest it recorded in the past 13 quarters. That quarter, it recorded a $297 million gain from commodity price risk management. Earlier, in 4Q12, it recorded a $126 million net loss, which was the highest loss in the past 13 quarters. This came as a result of a $100 million impairment related to its Piceance Basin proved oil and natural gas properties.
In comparison, Diamondback Energy (FANG) recorded a $212 million adjusted net loss in 2Q15. A sharp drop in energy prices led to a $323 million oil and gas property impairment for FANG in 2Q15. In 2Q14, FANG's net income was $28 million.
Diamondback Energy is 1.4% of the SPDR S&P Oil & Gas Exploration & Production ETF (XOP). Read Market Realist's Why Diamondback Energy Is One of the Best Upstream Stocks to know more on this company.
PDC Energy's net income drivers
On the cost side, PDC Energy's average lease and well expense (or LOE) decreased 23.5% in 2Q15 over 2Q14 on a per barrel of oil equivalent (or Boe) basis. Although LOE expense increased in dollar terms, a much higher production compared to 2Q14 led to lower per Boe costs.
In 2Q15, the company added 40 gross operated wells in the Wattenberg Field. Depreciation, depletion, and amortization (or DD&A) cost per Boe also decreased in 2Q15 over 2Q14. General and administrative (or G&A) expense per Boe decreased 31% in 2Q15 over 2Q14.
PDC Energy's 2015 cost guidance
In 2015, PDC Energy expects per well costs in the Wattenberg field in Colorado to decrease 28% from the 2014 level, to $3.1 million for standard wells. For the extended wells, it expects well costs to decrease 25%, to $4.1 million.
Next, we'll take a look at where PDC Energy's indebtedness.