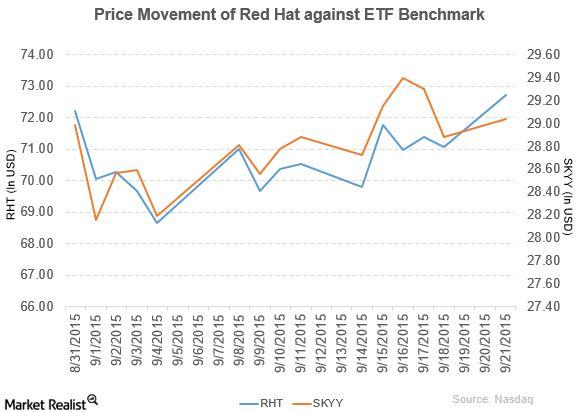 Organic Growth Boosts Red Hat's Performance
By Gabriel Kane

Sep. 23 2015, Published 2:04 p.m. ET
Red Hat's price movement
Red Hat (RHT) has a market cap of $13.34 billion. Its YTD (year-to-date) performance is stable. After the earnings report for 2Q16, Red Hat stock rose by 2.34% to close at $72.72 per share. The price movement on a weekly, monthly, and YTD basis is 4.20%, -3.21%, and 5.18%, respectively. It's trading at 1.34% on a trailing five-day basis.
Technically, it broke all of the supports in the last two months. Earlier, it was trading above all of the supports. Currently, it's trading at 2.50% above the 20-day moving average, -3.76% below the 50-day moving average, and 0.37% above the 200-day moving average.
The First Trust ISE Cloud Computing Index Fund (SKYY) invests 3.50% of its holdings in Red Hat. SKYY tracks a tiered and equal-weighted index of companies involved in the cloud computing industry. SKYY's YTD price movement is 1.66%.
Red Hat's competitors and their market caps are:
Article continues below advertisement
Red Hat's performance in 2Q16
Red Hat reported net revenue of $504.148 million in 2Q16—a rise of 4.80% on a quarterly basis. The revenue from subscriptions and training and services rose by 3.90% and 11.40%, respectively. The operating expenses, as a percentage of sales, fell by 1.40% in 2Q16. The net income and EPS (earnings per share) rose to $51.395 million and $0.28 per share in 2Q16. This is a rise of 6.88% and 7.69%, respectively, compared to the net income and EPS of $48.086 million and $0.26 per share in 1Q16.
The cash and cash equivalents rose to $991.607 million. Shareholders' equity rose by 1.38% in 2Q16.
About Red Hat
Red Hat provides open source software solutions. It uses a community-powered approach to reliable and high-performing cloud, Linux, middleware, storage, and virtualization technologies. The company also offers support, training, and consulting services. Red Hat helps create relevant and innovative technologies that liberate resources for growth and prepare the customer for the future of IT.