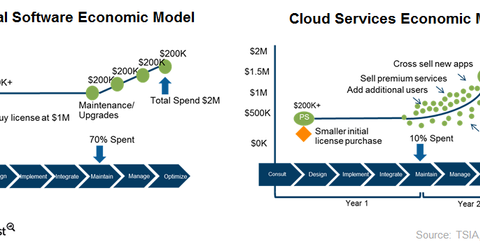 How Oracle's Shift Toward Cloud Changed Its Operating Model
By Anne Shields

Oct. 6 2015, Updated 11:07 a.m. ET
SMAC revolution
Previously in this series, we discussed how Oracle Corporation's (ORCL) cloud business—which includes IaaS (infrastructure-as-a-service), PaaS (platform-as-a-service), and SaaS (software-as-a-service)—saw double-digit growth in 1Q16. Currently, Amazon.com (AMZN) leads the IaaS space while Salesforce.com (CRM) dominates the PaaS and SaaS space.
With the arrival and increased adoption of SMAC (social, mobile, analytics, and cloud), the technology landscape is changing very rapidly. Now there's a weak demand for software that businesses and companies run on their own computers. Companies are increasingly opting for "cloud" as it enables the distribution of software and IT (information and technology) services online. Also, their increased preference is driven by the fact that they can be distributed without incurring heavy expenditure on IT infrastructure and data center operations.
Realizing this trend, Oracle aims to cater to SMAC requirements with an expanded cloud portfolio.
Article continues below advertisement
Traditional economic model versus cloud
Traditional software companies like SAP SE (SAP) and Oracle have business models that consist of upfront licenses coupled with ongoing maintenance fees. Most often, the post-sale maintenance business will provide the majority of revenues and high margins—these can go up by more than 70% of the total margin, as the above illustration shows. Thus, there is less pressure to create and maintain efficient maintenance, customer support, and retention functions. In the traditional model, all the license fees go directly to revenue, and related costs are reflected there as well. So the timing of revenue and expenses is completely aligned.
On the other hand, in the cloud business operating model, revenue is recognized only as the software service is delivered, even while expenses are incurred up front. Thus, the timing of revenue and expenses are misaligned in the cloud business. In cloud space, companies are forced to sell services to premium tiers, cross-sell new apps, sell premium services, and add more users to offset up-front initial license prices in the absence of maintenance revenues. The above cloud services economic illustration shows this model.
But a new operating model—along with capabilities such as providing of solutions, customer success management, and low-cost customer support—is required to succeed in this space. This is not easy as customer behaviors are rapidly changing, and their expectations are getting more and more. Companies who focus on how they interact with customers and get their problems addressed are likely to find success in this on-demand world.
You can consider investing in the PowerShares QQQ Trust (QQQ) to gain exposure to Oracle. QQQ invests about 3.08% of its holdings in Oracle.
In the next part of this series, we'll look at why Oracle expects margin expansion in the near future.