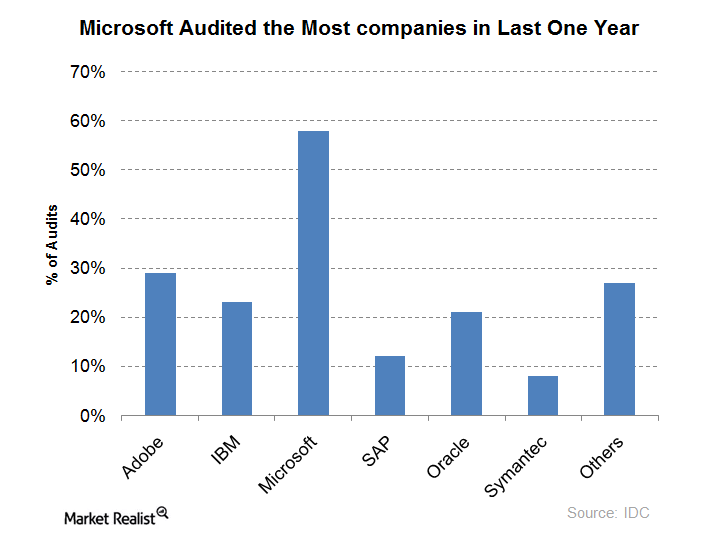 Oracle Employs the "Nuclear Option" to Bolster Its Cloud Sales
By Anne Shields

Oct. 1 2015, Updated 11:30 a.m. ET
Oracle employing "nuclear option" to boost cloud sales
Earlier in the series, we discussed Oracle's (ORCL) on-premises software license segment's performance in fiscal 1Q16. The growth of this segment is crucial for Oracle's overall growth, as on average it contributes approximately 50% toward overall revenues. Its contribution towards Oracle's overall revenues grew to 69% in fiscal 1Q16.
Oracle licenses its software to its customers under complex legal conditions. Users' payment for using Oracle software is dependent on a variety of metrics, such as how many employees or users are using the software and which features of the Oracle software are being used.
Oracle designs its system in such a way that it is relatively easy for the administration to add more users or turn on new features and  accordingly pay for the increased usage later. This system involves an audit. Microsoft's (MSFT) audit is called "True-Up."
Article continues below advertisement
Oracle is employing a "nuclear option" that involves a breach notice. This notice states that a customer is out of compliance and is thus required to stop using Oracle's software within 30 days. 30 days is the standard notice period mentioned in most Oracle agreements. Oracle's Legal Department is acting more aggressively to coerce customers into buying more licenses.
Oracle has become aggressive in exercising its right to audit a customer's compliance with the contracts that govern enterprise software usage. Recently, Oracle has made some changes to its standard practice. According to a Forbes article, Oracle has started to send routine breach notices with the help of its legal department.
Software companies are increasingly sending breach notices to report higher revenue growth
As the chart above shows, Microsoft audited the maximum amount of possible companies in the last year, followed by Oracle. The majority of leading software vendors, namely IBM (IBM), Adobe (ADBE) and SAP (SAP), engage in audits to deliver revenue growth.
A study done by the International Data Corporation and Flexera in 2014 stated that "the average true-up cost for organizations with greater than $100 Million in annual revenue was $.0004 X annual revenue." In other words, true-up cost was $400,000 per billion dollars of organizational revenue.
Purchase and usage of enterprise software are so complicated and filled with catches that there is an entire consulting industry, called "software asset management," dedicated in aiding companies in the navigation of its associated pitfalls. As the penalties for a breach are so troublesome, companies opt to pay for the additional services to avoid them.
If you're bullish about Oracle, you can invest in the Technology Select Sector SPDR ETF (XLK). XLK invests about 3.41% of its holdings in Oracle.