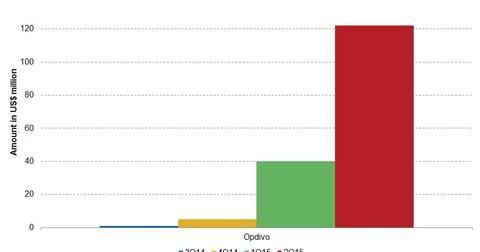 Why Opdivo Is Key for Bristol-Myers Squibb
By Mike Benson

Updated
Opdivo
Bristol-Myers Squibb's (BMY) latest drug, Opdivo, was the seventh drug to be approved by the US FDA for the treatment of melanoma. Apart from melanoma, this drug is also approved for the treatment of lung cancer.
Article continues below advertisement
How Opdivo works
Opdivo is a human-programmed death receptor protein -1 (or PD-1) blocking antibody that reduces tumor growth by blocking the interaction between PD-1 and its ligands.
What does Opdivo mean to Bristol-Myers Squibb?
Opdivo is one of Bristol-Myers Squibb's most important developments. The company expects Opdivo to be one of the major revenue contributors in the next five years. This drug is already approved for melanoma and forms of lung cancers, and is under phase three clinical trials for its use in the treatment of renal cell carcinoma (or kidney cancer) as well as non-small cell lung cancer.
Article continues below advertisement
Opdivo in global markets
For US markets, lung cancer treatment is an important opportunity for Bristol-Myers Squibb, as it is the first company to market drugs for squamous cell cancer. Opdivo is already used for non-squamous cell carcinoma.
The company also stopped its phase three study for the use of Opdivo in renal (or kidney) cancer in July 2015 due to the advantage in overall survival as compared to Novartis's (NVS) Afinitor.
The European Commission approved Opdivo in June 2015, making Opdivo the first and only PD-1 checkpoint inhibitor approved in Europe for first line as well as previously treated advanced melanoma patients.
Apart from Opdivo, Yervoy is also used for the treatment of melanoma. Bristol-Myers Squibb is working on a possible Opdivo combination with Yervoy for multiple tumor treatments. The European Commission has validated the Opdivo combination with Yervoy for metastatic melanoma.
Other drugs used for treatment of melanoma are Merck's (MRK) Intron A, Sylatron, and Keytruda, Novartis's (NVS) Proleukin, GlaxoSmithKline's (GSK) Mekinist and Tafinlar, and Roche's Zelboraf. Investors can consider ETFs like the Health Care Select Sector SPDR ETF (XLV), which has ~3.8% of its total investments in Bristol-Myers Squibb.