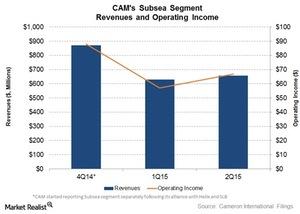 OneSubsea's Importance in the Schlumberger-Cameron International Deal
OneSubsea's importance
OneSubsea is a joint venture business between Cameron International Corporation (CAM) and Schlumberger (SLB), which own 60% and 40% of the joint venture business, respectively.
OneSubsea is part of Cameron International's Subsea segment, which delivers integrated solutions, products, systems, and services to the subsea oil and gas market. The segment did well in 2Q15, even when Cameron International's other business segments underperformed due to the recent weakness in the energy sector.
Article continues below advertisement
OneSubsea's importance can be best seen in its activity since the beginning of this year. At the start of 2015, OneSubsea had a $2.7 billion backlog related to subsea systems projects. In August 2015, OneSubsea received a contract to supply a 15,000-psi (pressure per square inch) subsea pump system for Royal Dutch Shell's (RDS.A) Stones development project in the Gulf of Mexico. In January, OneSubsea, Helix Energy Solutions Group (HLX), and Schlumberger received another contract to supply well intervention techniques.
Cameron International's Subsea segment performance
In 2Q15, Cameron International's Subsea segment registered a 4.3% revenue increase and an 18% operating income increase from 1Q15 due to better execution and cost control efforts. During 2Q15, the Subsea segment's order quantity also increased following a significant award for subsea processing systems in the Gulf of Mexico.
Schlumberger's chairman and CEO, Paal Kibsgaard, said in a recent conference that, based on the OneSubsea joint venture, "it became clear to us that the basis for a fruitful combination of our two companies was not only compelling, but also culturally very feasible."
Cameron International makes up 0.93% of the iShares Dow Jones US Energy Sector ETF (IYE).
Cameron International's weaknesses
During 1H15, many deepwater projects were deferred, and deepwater rigs idled due to low energy prices. Meanwhile, many upstream energy companies announced spending cuts or deferrals in their 2015 capex plans.
Cameron International's order backlog was down by 12% to ~$8.4 billion at the end of 2Q15, compared to December 31, 2014. Depending on the duration of the energy price depression, Cameron International's backlog may get cancelled, downsized, or deferred—a possibility that may not sit too well with Schlumberger shareholders, as it could reduce the smaller company's value.
That said, did the shareholders of both companies receive the Schlumberger-Cameron deal with similar discomfort? In the next part of this series, we'll explore this possibility further.