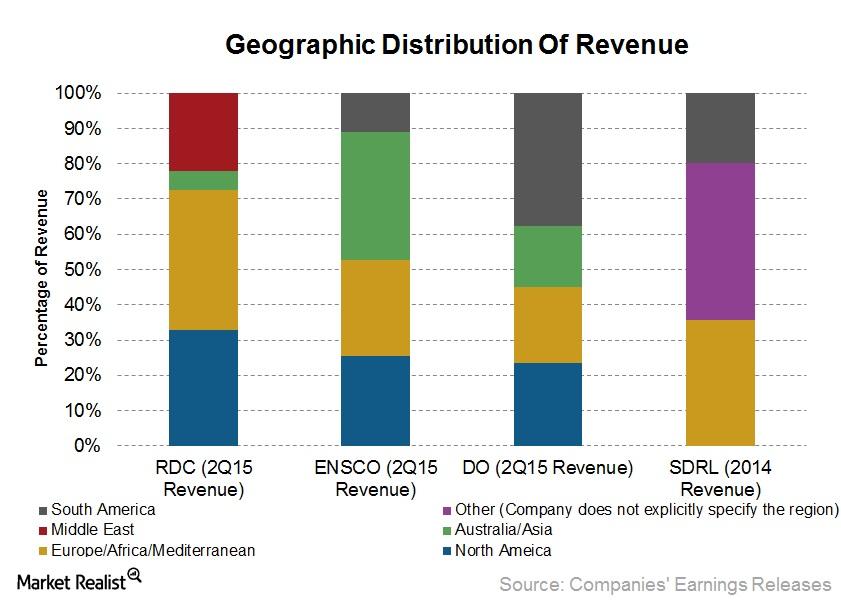 Which Offshore Company Has Better Geographical Positioning?
By Sue Goodridge

Oct. 1 2015, Updated 10:52 a.m. ET
Offshore drilling regions
Most offshore drilling (IYE) companies have a global presence and operate their rigs in different continents. These regions have different water depths and environmental conditions, so the type of rigs used differ according to the regions. Rig demand varies according to the region, and so do day rates.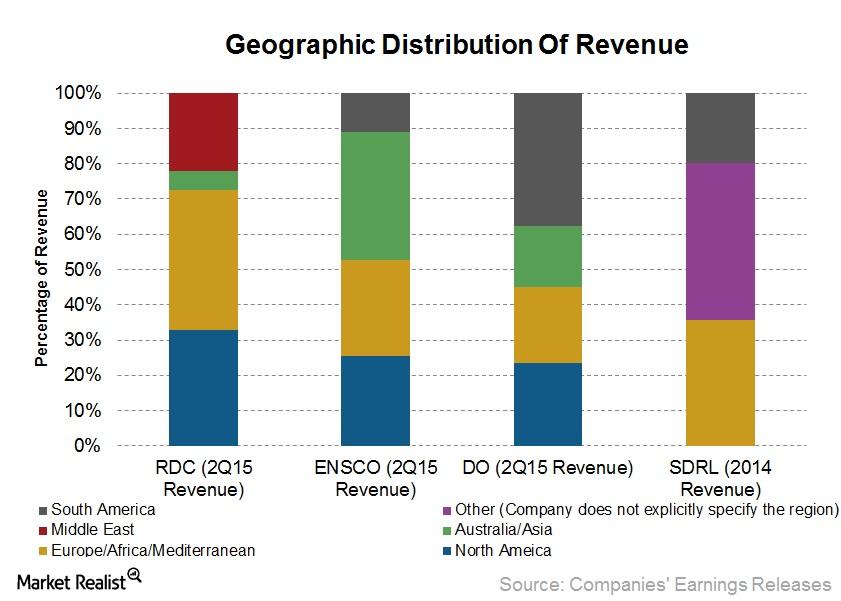 Article continues below advertisement
Comparing companies: geographic distribution of revenue
Seadrill (SDRL) operates its rigs in South America, North America, Russia, Africa, the Middle East, and Asia. However, the company does not report its quarterly geographic revenue breakdown, so we have taken the yearly breakdown for Seadrill.
Rowan Companies's (RDC) highest-revenue region is the North Sea at 28% of overall revenue, whereas combined revenue from Europe and Africa accounts for 40%. The company has 23% exposure in the U.S. Gulf of Mexico, and its revenue from North America accounts for 33% of total revenue. Among the companies compared, only Rowan Companies (RDC) has exposure in the Middle East, which accounts for 22% of total revenue.
Ensco (ESV) brings in 26% of its total revenue from the U.S Gulf of Mexico. The revenue combined from Europe and Africa accounts for 27%, whereas the combined revenue from Australia and Asia is 36%. Diamond Offshore (DO) brings in 38% of its total revenue from South America, 23% from North America, and 22% from Europe, Africa, and the Mediterranean.
Which region is performing better?
With low oil price levels, all offshore regions have experienced lower utilization rates and day rates. Of the many affected regions, the Gulf of Mexico is one of the most challenged and hardest hit. All the above-mentioned companies—especially Ensco (ESV)—have significant exposure to this area. Comparatively, the Middle East, where only Rowan Companies (RDC) has exposure, is less negatively affected.
Brazil is one of very few regions that continues to have strong demand for offshore drilling. It has experienced a robust utilization rate that has increased over the last month. Diamond Offshore (DO) has a higher exposure to this region, which may prove to be advantageous in the current scenario.