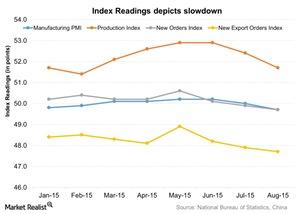 Insights from China's Manufacturing Purchasing Managers' Index
By Lynn Noah

Updated
Meaning and importance of the Purchasing Managers' Index
The Purchasing Managers' Index (or PMI) is an economic indicator that provides a snapshot of an economy's manufacturing sector. A reading above 50 indicates that manufacturing activity is expanding, while a reading below 50 signals a contraction.
The PMI is based on variables such as output, new orders, employment, and prices across key sectors. These variables provide advanced insight as to how the manufacturing sector of the economy is performing.
Article continues below advertisement
Official manufacturing Purchasing Managers' Index
China's official manufacturing PMI reading for August came in at 49.7 compared to 50.0 in July. This index is released every month by China's National Bureau of Statistics. Due to sluggish client demand, new domestic orders and new export orders declined, which led to an overall fall in the production index from 52.4 points in July to 51.7 points in August.
Additionally, lower production output requires less labor, and employment is falling quickly in the manufacturing sector.
Official non-manufacturing Purchasing Managers' Index
The situation is no different in the service, or non-manufacturing, sector. The non-manufacturing business index was down to 53.4 in August from 53.9 in July, mainly as new orders declined. However, there was a marginal increase in new export orders.
The financial sector, also considered part of the non-manufacturing sector, took a hit because of China's recent stock market meltdown.
The employment situation was a little bit better on the non-manufacturing sector. The employment index rose from 49.2 in July to 49.5 in August.
Impact on mutual funds
The performance of China-focused mutual funds such as the Clough China I Fund (CHNIX), the Fidelity China Region Fund (FHKCX), the John Hancock Greater China Opportunities Fund (JCOAX), and the Matthews China Investor Fund (MCHFX) has definitely taken a hit due to weak performance in the industrial and financial sectors where mutual funds are heavily invested.
The Information Technology (or IT) sector is considered part of the non-manufacturing sector. It was also impacted by weak client demand. Margins of IT companies such as Alibaba Group (BABA), Baidu (BIDU), and NetEase (NTES) in which CHNIX, FHKCX, JCOAX, and MCHFX are invested have also been adversely impacted.
In the next part of our series, we'll take a look at the Caixin China Manufacturing PMI.