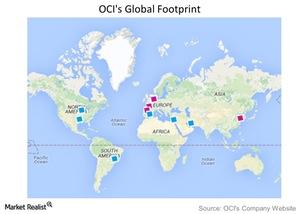 Why OCI Acquisition Is a Big Deal for CF Industries
By Adam Jones

Updated
OCI acquisition
Unlike phosphate and potash fertilizers, which require minerals mined from the earth that are available in specific regions, nitrogen fertilizer is much easier to produce because of the worldwide availability of its primary input material, natural gas. This is also why there are several nitrogen-based fertilizer players in the industry, and consolidation may help players gain a larger footprint in the global market.
Article continues below advertisement
CF Industries (CF) recently announced an acquisition deal with OCI Nitrogen, one of the leading nitrogen fertilizer companies in Europe.
CF industries will get access to OCI Nitrogen's assets in the Netherlands, Dubai, and Iowa and Texas in the United States. The chart above shows OCI's global footprint, which will increase CF's capacity as well as its global reach.
Over the next 24 months, this deal is slated to increase CF's combined urea, ammonia, and UAN capacity by 65%.
This should also benefit VanEck Vectors Agribusiness (MOO), which maintains 3.7% of its holdings in CF,  5.8% in PotashCorp (POT), 4.2% in Mosaic (MOS), and 4.3% in Agrium (AGU).
Cost synergies ($500 million after taxes) were the basis of this merger, in which CF will achieve operational, corporate (by means of spreading SG&A over larger quantity, reducing the cost of SG&A per ton), and capital structure optimization.
It is unclear from the earnings call how CF will optimize its capital structure from this deal.
Some analysts believe this merger was a tax-inversion deal to reduce the tax bill for CF. Analysts have strong reasons to believe this, as CF will move its headquarters to the UK, cutting the company's tax rate from 34% to 20%.
The cost synergies and tax savings should mean higher earnings, ceteris paribus. The share price rose about 7.5% on the day this news came to light.
In the next few parts, we will explore how CF funded this deal and the company's leverage position.