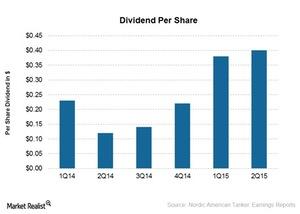 Nordic American Tankers's (NAT) High Dividend Stock
By Sue Goodridge

Updated
Cash flow
Nordic American Tankers's (NAT) operating cash flow in 2Q15 was $54.5 million, compared to $51 million in 1Q15 and $4.3 million in 2Q14. The operating cash flow has consistently increased for the past three quarters.
Article continues below advertisement
Dividend
NAT claims to have a unique business model with a high dividend payout and low financial risk. The company has a long history of dividends, having paid dividends for 72 consecutive quarters. It declared a dividend of $0.40 per share in 2Q15, compared to $0.38 in 1Q15 and $0.12 in 2Q14. The above graph shows NAT has increased its dividend per share for the past five quarters as the tanker market improved.
Along with paying dividends, the company has further strengthened its balance sheet by retaining $19 million in cash flow from operations in 2Q15. For investors, this means the company has a higher dividend-paying capacity than what it paid out. According to the management, a full payout of cash flow would have resulted in a dividend of $0.61 per share.
Future dividend
NAT's management claims to be committed to protecting the dividend potential of the company. It further states as the market improves, investors can expect a higher dividend.
According to the company, it will incur a huge capital expenditure in 2016 and 2017 toward its newbuild crude (DBO) tankers. Also, the company has recently acquired two secondhand vessels. Unlike Teekay Tankers (TNK), which issued new equity, NAT does not plan to cover commitments for vessels by issuing equity, which limits the dividend per share. On June 30, 2015, the company's financial leverage calculated as total debt divided by total equity stood at 27%, as compared to 28% on March 31, 2015.
NAT has the highest dividend yield among competitors Teekay Tankers, Frontline (FRO), Tsakos Energy Management (TNP), DHT Holdings (DHT), and Euronav (EURN). We will explore this more in the next article.