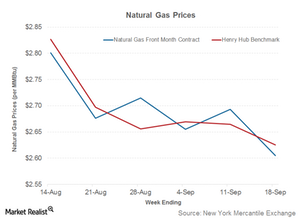 Natural Gas Prices Fall Hard and Coal May Lose
By Mike Sonnenberg

Sep. 22 2015, Published 3:28 p.m. ET
Natural gas prices
Natural gas prices in the spot market dropped sharply to $2.61 per million British thermal units (or MMBtu) on September 18 compared to $2.69 per MMBtu on September 11. Natural gas prices fell throughout during each trading session between Tuesday, September 15, and Friday, September 18, on oversupply worries.
Natural gas futures prices also dropped, albeit with lower magnitude. The natural gas front month futures price gives you an idea of market expectations for near-term natural gas prices. Prices dropped marginally to $2.63 per MMBtu on September 18 from $2.66 per MMBtu on September 11. With this, futures prices came in higher than spot prices again, a phenomenon known as "contango." The reverse of "contango" is known as "backwardation," a situation where futures prices are lower than spot prices.
Article continues below advertisement
Why are these indicators important?
The shale gas boom led to a massive rise in natural gas production, which in turn spurred a drop in natural gas prices. As a result, natural gas is competing hard against coal. Cleaner, more competitive natural gas ate away market share from coal in electricity generation, and this trend has continued.
Natural gas prices and coal's market share in electricity generation are related. When natural gas prices drop, coal loses market share, as it becomes more economical to use natural gas for power generation. On the other hand, a rise in natural gas prices generally leads to an increase in coal's market share.
Impact on coal and utilities
Even after the rise, natural gas prices continue to remain subdued. This is not good news for coal producers (KOL) such as Alliance Resource Partners (ARLP) and Natural Resource Partners (NRP).
For utilities (XLU) such as Dynegy Corporation (DYN) and Edison International (EIX), the impact depends on the level of regulation. For regulated utilities, the impact is generally negligible, as the fuel cost is part of their tariff calculations. For natural gas power plants supplying electricity at fixed price contracts, subdued natural gas prices are a positive.