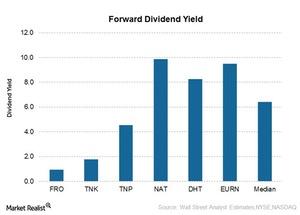 NAT and EURN Have Attractive Dividend Yields
By Sue Goodridge

Sep. 30 2015, Published 5:49 p.m. ET
Dividend
Income investors value dividend-paying stocks. For these investors, the dividend yield is the valuation measurement that matters the most, as it gives investors an idea how much they can earn through dividends relative to its share price. All the companies under comparison pay dividends.
Article continues below advertisement
Nordic's long dividend history
Nordic American Tanker has a long history of dividends, having paid dividends for 72 consecutive quarters. The company has steadily increased its dividends in the last five quarters as crude (DBO) tanker rates improved. The management says that as the market improves, investors can expect an even higher dividend.
Euronav's new dividend policy
In the second quarter, Euronav (EURN) announced its new clear and transparent dividend policy. The company now intends to distribute at least 80% of its previous year's annual net profit. Earlier, the company had not paid any dividends from 2011 to 2014. The company believes its recent acquisition will further enhance the company's capacity to pay dividends.
Article continues below advertisement
Frontline's equity issuance
Dividend yields
The above graph shows forward dividend yields of six companies. Nordic American Tanker (NAT) and Euronav (EURN) have attractive forward dividend yields of 9.86% and 9.84%, respectively. DHT Holdings (DHT) has a dividend yield of 8.27%. In contrast, Frontline (FRO), Teekay Tankers (TNK), and Tsakos Energy Navigation (TNP) have lower dividend yields of 0.94%, 1.77%, and 4.53%, respectively.