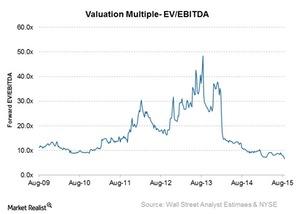 Is NAT Attractive according to Its Valuations?
By Sue Goodridge

Sep. 9 2015, Published 2:30 p.m. ET
Valuation multiple
The valuation multiple forward EV-to-EBITDA (enterprise value to earnings before interest, taxes, depreciation, and amortization) is used to value and compare crude tanker companies. The EV-to-EBITDA multiple for Nordic American Tankers (NAT) has been falling since January 2014. In August 2015, the multiple touched one of its all-time lows. On August 21, the multiple was 6.72, whereas in the last month it was around 9.02.
Article continues below advertisement
Why EV-to-EBITDA?
Shipping companies are cyclical and volatile in nature. Like upstream companies (XOP), shipping companies are capital-intensive, with high levels of depreciation and amortization. Also, these companies have varying degrees of financial leverage. Such companies are better valued and compared using an EV-to-EBITDA multiple. A forward EV-to-EBITDA multiple tells us how a company is valued for each dollar of EBITDA that the company is expected to earn. A lower ratio might indicate a company is undervalued, but not always.
Falling multiples
Generally, low valuation multiples have preceded stock rebounds, but this is not always the case. If analysts' estimates for EBITDA are considered to be at an appropriate level, Nordic American Tankers's valuation multiple indicates good times ahead for investors. Wall Street analyst's EBITDA estimates for 3Q15 are $47.05 million against the actual EBITDA of $53.7 million in 2Q15. Estimates for 2015 and 2016 are $208 million and $205 million, respectively. Investors should keep in mind EBITDA estimates can change with time, which affects the attractiveness of the current low valuation multiple.
Article continues below advertisement
Dividend yield
Investors who prefer steady income have always found investing in Nordic American Tankers an attractive option. The company always has a dividend yield much higher than the US Treasury yield. The dividend yield in 2Q15 was 7.45%, as compared to $6.55 in 1Q15 and $7.03 in 2Q14.
The company has always had a higher dividend yield than those of its peers. Compared to NAT's 7.45% dividend yield in 2Q15, Teekay Tankers (TNK), Tsakos Energy Navigation (TNP), and DHT Holdings (DHT) had 2Q15 dividend yields of 1.82%, 2.41%, and 3.47%, respectively.
Management actions
On August 21,, Herbjørn Hansson, Nordic American Tankers's (NAT) chairman & CEO, and his son increased their holding in the company. They bought $1.4 million worth of shares. This can be taken as a positive signal, as an increase in management stake implies they have a positive outlook for the company as well as the industry.