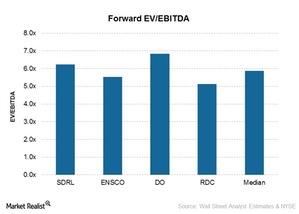 Must-Know Relative Valuation for Offshore Companies
Valuation ratio for offshore drilling
Offshore drilling (IYE) (OIH) companies are cyclical and volatile in nature. These companies are capital intensive, with high levels of depreciation and amortization. Also, these companies have varying degrees of financial leverage. Such companies are better valued and compared using EV-to-EBITDA (enterprise value to earnings before interest, taxes, depreciation, and amortization).
Article continues below advertisement
Relative valuation
Rowan Companies (RDC) is currently trading at a 5.12 forward EV-to-EBITDA multiple as compared to the median industry multiple of 5.88. Ensco (ESV), Seadrill (SDRL), and Diamond Offshore are trading at 5.53, 6.23, and 6.83 forward EV-to-EBITDA multiples, respectively. Lower relative valuation multiples generally precede stock rebounds, but not always. Investors should keep in mind that a lower valuation ratio is better, but lower EBITDA and EBITDA margins are not a good sign. Also, EBITDA estimates can change over time, which affects the relevance of current low valuation multiples.
Analysts' EBITDA estimates
Wall Street analysts estimate 2H15 EBITDA for Seadrill (SDRL) and Ensco (ESV) to be 31% lower than their EBITDA recorded in 1H15. For Diamond Offshore (DO) and Rowan Companies (RDC), these estimates are lower by 9% and 7%, respectively.
Similarly, Wall Street analysts estimate 2016 EBITDA for Seadrill, Ensco, and Diamond Offshore to be 27%, 34%, and 37%, lower, respectively, than 2014 EBITDA. Only for Rowan Companies (RDC) do analysts estimate positive growth (27%) in 2016 EBITDA as compared to its 2014 EBITDA.
What does the EV-to-EBITDA ratio tell us?
The forward EV-to-EBITDA tells us how a company is valued for each dollar of EBITDA that it is expected to earn. A lower ratio might indicate a company is undervalued, but not always. Over a period, ratios are assumed to revert to their mean value, so a lower valuation ratio will eventually increase. Also, companies with higher risk have low valuation ratios.