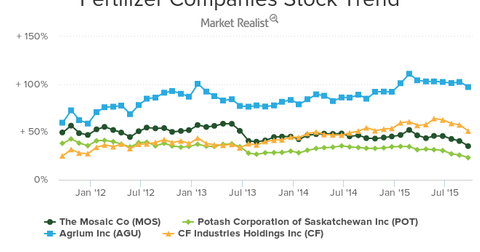 Mosaic and Potash: Why the Recent Slump?
By Adam Jones

Updated
Mosaic and Potash fall on September 22
The Mosaic Company (MOS) and Potash (POT) fell 7% and 6.5%, respectively, on September 22. This further pushed down these two companies' year-to-date returns to -26.5% and -38%, respectively.
Not surprisingly, the VanEck Vectors Agribusiness ETF (MOO), which holds about 8.7% of Mosaic and Potash as a percentage of its total portfolio, is also down 10.9% year-to-date.
[marketrealist-chart id=676057]
Article continues below advertisement
About Mosaic
The Mosaic Company produces and markets potash and phosphate crop nutrients to customers in 40 countries. The majority, or 55%, of Mosaic's gross margins is derived from its phosphate fertilizer segment. The rest is derived from the potash segment.
Mosaic's phosphate products include DAP (diammonium phosphate), MAP (monoammonium phosphate), and a value-added product called MicroEssentials. The company's phosphate facilities are located in Canada, the United States, China, India, Brazil, and Paraguay.
Potash products include Red Muriate of Potash (or MOP) in standard and granular grades and White MOP. The potash segment facilities are mainly located in the United States and Canada.
About Potash
Potash is the largest producer of potash fertilizers. The company also produces and markets phosphates and nitrogen crop nutrients. The majority, or 59%, of Potash's gross margins is derived from its potash segment, 31% is derived from its nitrogen segment, and the remaining comes from its phosphates segment.
Most of Potash's operations are located in Canada, the United States, and Trinidad. According to the company, its potash operations account for 20% of global potash production. The company's nitrogen and phosphate capacity accounted for 2% and 3%, respectively, of global capacity in 2014.