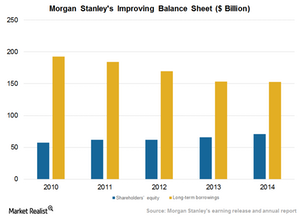 Morgan Stanley's Expanded Equity and Lowered Risk-Weighted Assets
Performance above index
Morgan Stanley (MS) has seen strong growth over the past couple of years on higher investment banking and trading revenues. The company's equity has also seen strong growth, backed by its reduction of risk-weighted assets and robust operating performances.
The company's average common equity stood at $67.2 billion on June 30, 2015, with institutional securities and wealth management contributing the highest capital.
On June 30, 2015, Morgan Stanley's total assets stood at $825 billion, compared to $808 billion on December 31, 2010. The company saw a decline in total assets until 2012, on account of riskier assets and declining performances in major divisions.
Article continues below advertisement
In order to meet new regulatory requirements, improve efficiency, and boost returns, the company has shed more than $200 billion in RWAs (risk-weighted assets) from its fixed-income business since the 2007 crisis. The company's risk-weighted assets stood at $157 billion, compared to the target of $180 billion.
Moderately leveraged
Morgan Stanley is moderately leveraged, with a leverage ratio under the US final rules—approximately 5.3% as of June 30, 2015. The company reduced its long-term borrowings to $153 billion as of December 31, 2014, compared to $192 billion on December 31, 2010.
The reduction in leverage has led to a two-notch upgrade on improved asset quality with Moody's Investors Service.
Higher returns over equity
Morgan Stanley generated a return on equity of 12% in 1H15, compared to less than 10% over the previous few years. The company's enhanced performance comes thanks to its improved balance sheet and better product offerings. This enhanced performance is also getting supported by higher loans from and deposits into its private bank, resulting in higher net interest income.
Morgan Stanley competes with commercial banks like Citigroup (C), JP Morgan Chase (JPM), Bank of America Corporation (BAC), and Wells Fargo & Company (WFC). Together, these banks account for approximately 28% of the Financial Select Sector SPDR Fund (XLF).
For a closer look at the risks Morgan Stanley faces, check out the next part of this series.