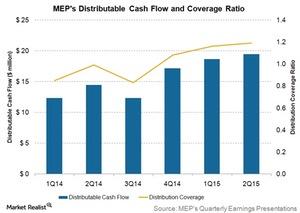 Midcoast Energy's Distributable Cash Flows Are Growing
By Rekha Khandelwal, CFA

Sep. 20 2015, Published 8:11 p.m. ET
Midcoast Energy's distributable cash flows
Midcoast Energy Partners' (MEP) distributable cash flows increased in 2Q15 compared to the previous quarter and the and year-ago quarter. Its distributable cash flows have shown a rising trend since listing.
Distributable cash flow is one of the most common measures of MLP performance. It's broadly calculated by subtracting interest, tax, and maintenance capital expenditures from EBITDA (earnings before interest, taxes, depreciation, and amortization).
MEP's distributable cash flow is the cash available to pay distributions to its LP (limited partner) unit holders and GP (general partner).
Article continues below advertisement
The above graph shows the growth in MEP's distributable cash flow. MEP's revenues fell 79% year-over-year in 2Q15. MEP's adjusted EBITDA didn't fall despite a drop in revenues, as the cost of sales declined more than the decline in revenues. MEP's cost saving initiatives also contributed to its EBITDA over the last few quarters.
MEP's distribution coverage
Distribution coverage is the ratio of an MLP's distributable cash flow to its total distributions. Midcoast Energy Partners' distribution coverage ratio was 1.19 in 2Q15. It has been above one and increasing for the last three quarters. A higher ratio is better from a safety of distribution standpoint. The right axis in the above graph shows MEP's distribution coverage ratio.
Generally, MLPs with stable earnings target a distribution coverage ratio in the range of 1–1.1 times the distributable cash flow. MLPs whose operations are more sensitive to seasonal factors target higher coverage ratios.
Peer Crestwood Midstream (CMLP) had a distribution coverage ratio of 1.09 in 2Q15. ONEOK Partners' (OKS) distribution coverage ratio in 2Q15 was 0.88. CMLP forms ~1% of the Global X MLP ETF (MLPA).
DCP Midstream Partners (DPM), EQT Midstream Partners (EQM), and Energy Transfer Partners (ETP) had distribution coverage ratios of 1.17, 1.82, and 1.03, respectively, in 2Q15.