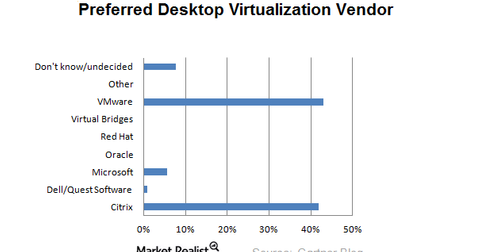 Microsoft Teams with VMware to Push the Windows 10 Adoption
By Anne Shields

Updated
Microsoft's and VMware's Project A2
Previously in this series, we discussed Intel Corporation's (INTC) launch of 48 Skylake processors on September 1, 2015. On the same day, Microsoft Corporation (MSFT) and VMware (VMW) announced their partnership in called venture called Project A2, which aims to speed up the Windows 10 adoption.
The partnership involves enabling IT (information technology) departments to manage their Windows devices in a different way. Instead of placing the sole focus on the devices themselves, Project A2 aims to shift focus toward applications, in line with Microsoft's "Mobile first, Cloud first." strategy.
Article continues below advertisement
 VMware expects Windows 10 success
Under Project A2, VMware announced new software aimed at businesses willing to manage their corporate applications with Windows 10. Reportedly, VMware software is being developed in collaboration with AirWatch, a mobile device-management company that VMware acquired in 2014 for approximately $1.5 billion.
The VMware-AirWatch partnership is another step toward increased preferences for "desktop virtualization," wherein the computer desktop environment and a physical computer are actually separate.
To put this concept into perspective, IT departments offer app stores, but they don't run every app on the device. Instead, they stream them from the cloud or their data centers. As the chart above shows, the Gartner survey shows that respondents equally prefer Citrix Systems (CTXS) and VMware, while they have also shown an increasing interest in Microsoft.
VMware also believes that Project A2 will encourage organizations to upgrade to Windows 10 by providing them an easier way to roll it out and shift their apps from Windows 7 devices to new Windows 10 devices. Also, the chances that Windows 10 will become a success are high, as the new system enables users to move their apps from the device to the cloud.
To gain exposure to Intel, you can consider investing in the VanEck Vectors Semiconductor ETF (SMH). Intel makes up about 19% of SMH.
In the next and final part of this series, we'll look at why the collaboration between VMware and Microsoft is such a big deal.