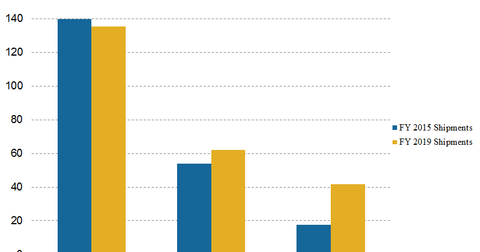 Microsoft Only Firm Expected to See Tablet Growth in 2015
By Adam Rogers

Updated
Decline in tablet shipments
On August 26, 2015, market research firm IDC stated that it expects worldwide shipments of tablets, including 2-in-1 devices, to decline by 8% in fiscal 2015 as opposed to a previous forecast of 3.8% decline in the same period.
According to IDC, tablet shipments are forecasted to have a five-year CAGR (compounded annual growth rate) of 0.7%. Total tablet shipments for 2015 are expected to be in the range of 212 million units, with the majority being pure slate tablets like Apple's (AAPL) iPad.
Article continues below advertisement
IDC expects the 2-in-1 segment to grow by a substantial 86.5% YoY (year-over-year) in 2015 with approximately 14.7 million units shipped in this space. The research firm also expects Microsoft's (MSFT) Surface device to be a major player in this segment. On August 26, 2015, IDC analyst Ryan Reith noted, "In the past, the biggest challenges with 2-in-1 devices were high price points, less than appealing designs, and, quite frankly, lack of demand for Windows 8, which was the (operating system) most devices were running."
Reith added, "With more (hardware manufacturers) offering devices in this segment, prices have started to come down significantly. We estimate that over 40 different vendors shipped 2-in-1 products in the second quarter of 2015, which is up from just 14 vendors two years ago. With the launch of Windows 10, the introduction of more Android-based products, and the possibility that Apple will unveil a larger, screen-detachable iPad, this is the space to watch."
Google's Android to dominate market
According to IDC, tablets running on Google's (GOOGL) Android operating system are expected to dominate the market with an overall market share 66% in 2015. Shipments for Android tablets are expected to decline 10% YoY to 139.8 million units in 2015.
In comparison, Apple's iOS tablet shipments are expected to decline by 14.9% to 54 million units placing the firm in the second position with 25.5% market share. Microsoft's Window tablets are forecasted to increase by 59.5% in 2015 to 17.7 million units in 2015, or a market share of 8.4%.
For 2019, IDC has predicted the below:
Windows tablets to grow at a CAGR of 30.3% with a market share of 17.5%
Apple's tablet segment to decline at a compounded annual rate of 0.5% with a market share of 25.9%
Android's tablet segment to decline at a compounded annual rate of 2.7% with a market share of 56.6%
To gain exposure to Microsoft (MSFT), you can invest in the First Trust ISE Cloud Computing Index ETF (SKYY) and the iShares North American Tech-Software ETF (IGV). The stock accounts for 2.31% and 9.15% of the portfolios, respectively.