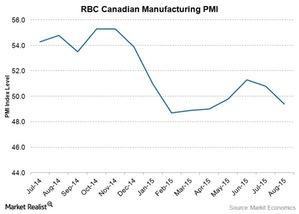 Manufacturing Down in August, but Stronger Dollar Benefits Canada
The RBC Canadian Manufacturing PMI
The RBC Canadian Manufacturing PMI (Purchasing Managers' Index) for August highlights a very interesting point. The US dollar (UUP), which has been hurting US exporters, could be benefiting Canadian exporters.
The United States accounts for 62% of Canadian exports. With a stronger US dollar, Canadian goods become cheaper than US goods in US markets. This is good news for Canadian manufacturers such as Magna International (MGA), Suncor Energy (SU), and Enbridge (ENB).
Article continues below advertisement
Rising US dollar benefits Canadian exports
So while the dollar's strength is weakening US (SPY) exports, it could help strengthen Canada's exports. The August RBC Canadian Manufacturing PMI survey, conducted by the Royal Bank of Canada in association with Markit and the Supply Chain Management Association, came out on September 1. It proved this advantage.
The report highlighted a sustained rise in new exports in Canada in August. Increased export orders, boosted by the strengthening dollar, continued to support the manufacturing sector's growth and economic output. However, growth in production and output volumes slowed in August, as operating conditions deteriorated marginally in Canada (EWC).
Canadian manufacturing PMI stood at 49.4 in August
The Canadian manufacturing PMI reading for August stood at 49.4. Manufacturing output in the Canadian economy contracted for the first time in three months. Canada's industrial sector has been expanding for the past two months, with July recording a 50.8 and June recording a 51.3 PMI level.
However, with escalating global uncertainty leaving no sector or economy untouched, Canada isn't spared either. "Canada's manufacturing sector continues to face growth headwinds from heightened global economic uncertainty and sharp falls in energy sector capex plans," said Cheryl Paradowski, president and chief executive officer of SCMA.
On a regional scale, Ontario and Quebec outshone all other regions in Canada in terms of manufacturing sector conditions. British Columbia and Alberta remained the worst-performing regions. Job cuts were most prevalent in Alberta and British Columbia.
Overall industrial sector activity and demand are down, which is bound to be reflected in most countries. Mexico wasn't spared either. Moving south, we see that Mexico's manufacturing index eased in August following a sharp rebound in July. Let's take a closer look at this in the next part of this series.