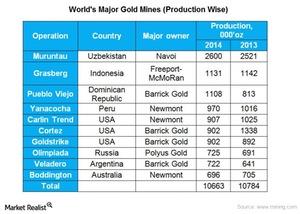 Do Lower Gold Prices Impact Margins and Global Production?
By Meera Shawn

Updated
Production-wise mine size
There has been a difference of opinion about which gold mine is the largest in terms of production. Is it the Muruntau gold mine in Uzbekistan or the Grasberg gold mine in Indonesia? Muruntau produced ~2.6 million ounces of gold in 2014. It has a resource base of about 170 million ounces of gold. This gives it backing to remain in the top position for longer. Grasberg produced 1.1 million ounces of gold in 2014. This Indonesian mine complex lags well behind Muruntau. It's the third largest copper mine.
Article continues below advertisement
Do lower metal prices squeeze the margins?
The entire gold mining sector saw a downturn in July. It suffered a full-blown panic. The downfall was set off by extreme shorting on gold futures by speculators. Fear gripped the gold equity investors. They likely got out of these investments quickly. From these investors' perspective, the shorting on gold equity was sparked due to the falling gold prices. Lower gold prices could indicate lower profit margins.
Mining cost fallacy—$1,200
The market-wide gold sell-off likely had its roots in the gold mining cost rationale. The air of fear that clouded the markets suggests that the mining cost is close to about $1,200. Basing our analysis on the value will likely make us conclude that gold prices below $1,200 or $1,100 could push the miners' equities into bankruptcy.
According to these views and analysis, a falling price will put many gold mines into a loss which could result in closures and cutbacks. However, this isn't the case. A fall hasn't been encountered in newly mined gold. Miners' margins can flatten by deteriorating prices, cuts, and closures. This hasn't occurred.
Article continues below advertisement
The miners have faced falling US dollar prices with respect to their domestic currencies. The downfall has led to a rise in the price of gold instead of a fall. Also, the mining companies have been working the factors like improving efficiencies, reducing the exploration programs, and deferring the capital expenditures. Also, the fall in the prices of oil, that's used extensively in the exploration process, has aided the miners' cost.
ETFs and mining equities
The VanEck Vectors Gold Miners ETF (GDX) fell 47% on a YoY (year-over-year) basis. Leveraged ETFs like the Direxion Daily Gold Miners (NUGT) fell about 76% on a YTD (year-to-date) basis.
Mining companies like Sibanye Gold (SBGL), Gold Fields (GFI), and AngloGold Ashanti (AU) are among the companies that have their core operations in South Africa. The rising rand against the US dollar helped these miners. These socks account for 10.50% of GDX.
In the next part of this series, we'll discuss the miners' cost structure.