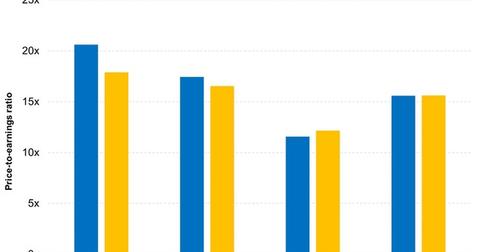 Look for Pockets of Value within Emerging Markets
By Hugh Young

Updated
On the other hand, we feel reasonably comfortable and even vindicated by the recent selloff. If prices start to reflect fundamentals more closely, there will be opportunities to add to our existing holdings.
Asia, and more so emerging markets, looks cheap compared to Europe and the United States. It seems perverse that money is flowing away from the developing world especially when you realize that corporate earnings in these areas have stabilized for the most part (if you exclude the commodity companies). We may even see an earnings recovery as soon as next year.
Article continues below advertisement
Rising risk aversion is in part driven by currency weakness, but this is as much a reflection of a strong dollar as an indicator of potential problems at home. Therefore, our view is that currencies may exaggerate market weakness in the short term, but they do not play a significant part in equity performance in the long run.
Market Realist – Where can you find value within emerging markets?
This graph compares the price-to-earnings (trailing-12-month) ratio for European (DBEU), US, Indonesian (IF)(EIDO), and Korean (EWY) stocks along with their respective ten-year averages.
European stocks appear quite expensive relative to their historical valuations. The MSCI Europe Index is currently trading at 20.6x earnings compared to its ten-year average of 17.9x earnings. The S&P 500 Index remains slightly expensive despite the recent mauling. The index is trading at 17.4x earnings while its ten-year average is 16.5x earnings. We discussed the headwinds facing these economies in the previous part of this series.
Article continues below advertisement
Emerging markets (ABE)(FEO) as a whole may not be attractive,  but there are some pockets of value within emerging markets. Some commodity-importing emerging markets look attractive at current valuations. Korea, for instance, is trading at 11.5x earnings compared to 12.1x earnings average over the last ten years. Korea also has a positive current account balance, which should come in handy as rates rise in the United States.
Indonesia, which depends more on consumption than commodities, is also reasonably attractive. The MSCI Indonesia Index is trading at 15.6x earnings, which is in line with its long-term valuations.
Commodity-importing economies are better off than economies like Brazil, among other Latin American economies (LAQ), and Russia. This is because lower commodity prices help bring down import bills, improving the current account status. While this is a positive for Indian stocks (IFN)(INDA) as well, they appear expensive and key reforms have yet to take place.