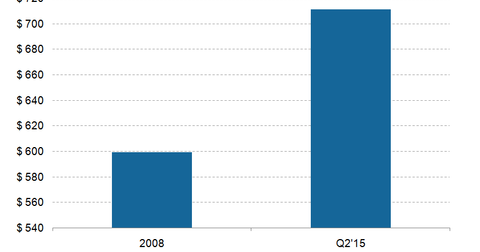 Lending to Small Businesses: Technology Companies' New Venture
By Matilda James

Updated
Loan offerings to small businesses
According to a report from The Wall Street Journal, technology companies like Intuit (INTU), PayPal (PYPL), and Square are now venturing into the space of lending funds to small businesses. The tech companies are aiming to use the small businesses' transaction data for their platforms.
These small and medium businesses often lack enough funds to expand their operations, or much less, simply operate. Access to these businesses' transaction cash flow data have urged payment service providers to enter the lending landscape.
The objective is to build a relationship with these businesses by offering them the needed finances, and in turn, make profits. William Phelan, president of PayNet, a small business credit tracker, said "It locks the customer up in a new way."
Article continues below advertisement
Compared to consumer lending and loans to large enterprises, SMB (small and medium business) lending has faced its share of difficulties since the Great Recession. As the chart above shows and according to an FDIC (Federal Deposit Insurance Corporation) report, banks reduced small loans from $711 billion in 2008 to $599 billion in 2Q15. This is a decrease of 16%.
US banks' loan portfolios
US banks' loan portfolios (XLF) grew by 2.2% over 2Q14 to $185 billion in 2Q15, according to FDIC. This was led by a $49 billion increase in commercial and industrial loans, followed by a $25 billion increase in one-to-four family residential mortgages.
Article continues below advertisement
Major banks' charge-off rates
Since last year, net charge-offs fell 11.2% to $1.1 billion. Charge-off rates are the flow of a bank's net charge-offs (gross charge-offs minus recoveries) during a quarter, divided by the average level of its loans.
Banks listed on the New York Stock Exchange (SPY) like Wells Fargo (WFC), J.P. Morgan (JPM), and Bank of America reported lower charge-off rates in 2Q15 compared to the corresponding period last year.
Wells Fargo's charge-off ratio fell to 0.30% from 0.35% and net charge-offs fell by $67 million to $650 million in the second quarter of 2015. Meanwhile, J.P. Morgan and Bank of America posted rates of 0.56% and 0.49%, respectively.
This shows that even though banks have increased their lending, SMBs have been the least preferred entity because of the inherent risks associated with these companies. This is where payment companies like PayPal come into the picture, as they have started to analyze the businesses' data to minimize risk.