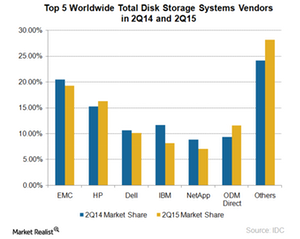 Legacy Storage Vendors Hit by Disruptive Innovation
New technologies are disrupting legacy storage technologies
Tight IT budgets and rising demand for data storage are some of the most pressing issues in front of IT professionals worldwide. This has led to the emergence of cost-effective storage technologies that can be scaled as per the requirements of the businesses. The past few years saw the advent of some technologies that are expected to cause disruption of legacy storage technologies:
Flash technology is expected to replace the magnetic hard disk.
Software-defined storage and cloud are expected to replace traditional IT infrastructure.
Article continues below advertisement
Technological shift hits legacy storage vendors
So far, we have seen that these technological shifts in the data storage market are being driven by startups, who are seeing increasing investment from venture capitalists. On the other hand, traditional storage vendors like EMC (EMC), IBM (IBM), and NetApp (NTAP) are witnessing a decline in their market share, as seen from the above graph. HP (HPQ) was the only traditional vendor whose market share increased in 2Q15. The legacy storage vendors are changing their business model to adapt to the technological shift.
IBM
IBM sold its x86 server business to Lenovo in September 2014 to focus on innovative technologies like the cloud. The company's revenue fell 13.5% YoY (year-over-year) in fiscal 2Q15 to $20.8 billion. This was the 13th straight decline in quarterly revenues.
Article continues below advertisement
HP
HP announced that it will split the company into two: one focusing on printers and personal computers and another on servers and data center. HP's fiscal 3Q15 revenue fell 8% YoY to $25.3 billion. The company's Enterprise Services revenue fell 11% YoY while its Enterprise Group revenue rose 2% YoY.
EMC
EMC's 2Q15 revenue rose 2% YoY to $6 billion. The company's Emerging Storage business performed well, with revenue increasing 49% YoY to nearly $3 billion. The iShares Dow Jones US Technology (IYW) has a 4.07% holding in IBM, 1.52% in HP, and 1.44% in EMC.