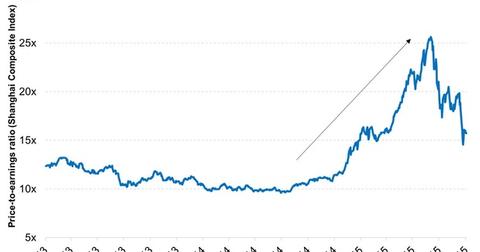 What Led to the Rout in Chinese Stocks?
By Hugh Young

Updated
Asian markets are getting mauled. In recent years, emerging markets have looked vulnerable at times, but not to this extent. So what's going on?
Investors are mainly concerned about China. What's changed has been their confidence in the ability of Chinese policymakers to manage the slowdown that has sapped global demand.
That confidence was first shaken when the stock market bubble burst. This should have come as no surprise because most yuan-denominated shares traded in Shenzhen and Shanghai do not accurately reflect corporate earnings. Rather, they are a reflection of the messy interaction between government market manipulation and the on-off speculative appetite of China's retail investors.
Article continues below advertisement
Market Realist – The rout in Chinese stocks was only a matter of time.
The graph above shows the price-to-trailing-12-month earnings for the Shanghai Composite Index since the start of 2013. The index more than doubled in value between August 2014 and May 2015. In that period, the index saw massive multiple expansion—from 10.3x earnings in August 2014 to 25.6x earnings at the peak in May 2015.
It's clear that this wasn't a bull market due to fundamental reasons. Rather, excess liquidity in the wings caused this speculative run. However, the bubble started bursting in May—triggered by signs of further slowdown in the economy—with the index losing more than 40% since then. The index is now flat for the year and is trading at much saner levels of 15.7x earnings.
A hard landing in China (GCH) has dire implications for emerging markets (VWO) and even some developed markets, like Australia (IAF)(EWA), dependent on China for exports. Meanwhile, the US economy depends more on domestic consumption than exports. That being said, many large-cap company earnings could take a hit due to subdued demand in China. For example, companies like Wynn Resorts (WYNN) and Qualcomm (QCOM) derive more than 60% of their revenues from China. Even Apple (AAPL) derives almost a quarter of its iPhone revenues from China.