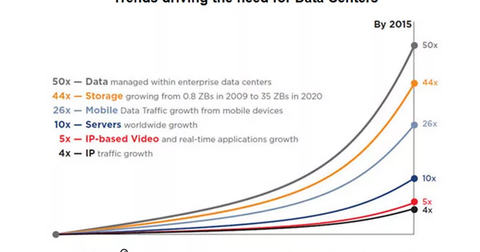 What Led Oracle to Amp Up its Data Center Capacity?
By Anne Shields

Updated
Staying competitive in the cloud space
Previously in this series, we discussed Oracle Corporation's (ORCL) huge increase in its data center delivery capacity—from 0.5 megawatts to 45 megawatts. This increase in data center capacity brings its total number of physical devices to over 40,000 and storage to over eight petabytes. On the surface, this increase looks magnificent. But it's not just Oracle that has become aggressive on the build-out of data center operations.
Article continues below advertisement
In June 2015, Amazon.com's (AMZN) AWS (Amazon Web Services) announced its plans to build cloud data centers in India (EPI) in 2016. In mid-2015, Oracle also announced that it plans to open cloud data center in Brazil (EWZ). Microsoft Corporation (MSFT) has meanwhile targeted Canada to establish its first two MS Azure cloud data centers.
SMAC revolution has given rise to data center requirements
The arrival of SMAC (social, mobile, analytics, and cloud) technology has led to an exponential growth in "big data" along with the increased adoption of smartphones and other mobile devices. This has exhausted the amount of space, power, and bandwidth currently available. The trend is expected to continue and grow at a much more rapid pace in the near future.
According to a combined study done by Cisco Systems (CSCO), IDC, and Gartner—and as the above graph shows—huge increases are expected in data, mobile servers, storage, and IP traffic. The report further stated that by 2018, approximately 78 percent of workloads are likely to be processed by cloud data centers, whereas traditional data centers will process remaining 22%.
Data center infrastructure, computing capacity, and geographic scale are considered crucial prerequisites for a sound cloud service. This explains the slew of announcements by leading cloud companies across emerging economies and geographies. Companies are spending significantly on data center operations to gain an edge over their peers, which, in turn, has spruced up the competition in the cloud space.
In the next part of this series, we'll take an even deeper look into Oracle's financial performance in 1Q16.