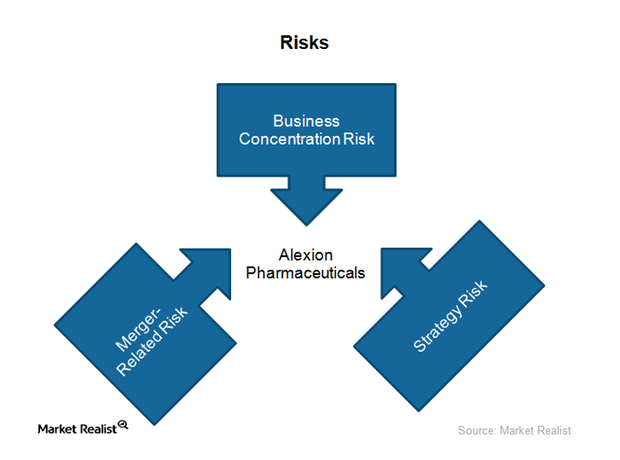 Key Risks that Alexion Pharmaceuticals Faces
By Margaret Patrick

Oct. 1 2015, Updated 9:08 a.m. ET
Key risks
In addition to research-related risks that the biotechnology sector has witnessed, individual biotechnology companies face additional risks due to their unique business models.
Article continues below advertisement
Business concentration risk
Alexion Pharmaceuticals (ALXN) depends on a single drug Soliris for most of its revenues. Alexion Pharmaceuticals continues to expand Soliris's approved indications. The drug has been granted the orphan drug designation (or ODD) for various indications across the US, Europe, and Japan.
Currently, Soliris is one of the costliest drugs in the world and earns substantial revenues despite low patient volumes in the targeted rare diseases. However, with the governments in the world increasing their focus on reducing healthcare costs, an unexpected change in regulations can severely affect Alexion Pharmaceuticals' profit margins. Change in demand as well as any research failure in Soliris's label expansion will significantly impact Alexion's business.
Biotechnology companies such as Biogen (BIIB), AbbVie (ABBV), and Regeneron (REGN) also have a similar business concentration risk.
Merger-related risks
Alexion Pharmaceuticals has acquired Synageva BioPharma for $8.4 billion. The deal has added two rare disease drugs, Kanuma and Strensiq, to Alexion's portfolio. In addition, Alexion also expects to witness operating and tax-related synergies.
Alexion acquired Synageva Pharmaceuticals at a heavy premium of 140% to Synageva's closing price on May 5, 2015. At such high valuations, if the expected synergies are not realized, it could lead to high losses for the combined entity.
Strategy risk
Alexion Pharmaceuticals is focused on providing innovative drugs for rare diseases. In the US, a rare disease is one that affects less than 200,000 people in the country. While there is more pricing flexibility for these rare disease drugs, they are also more sensitive to changes in demand and regulations as compared to mainstream drugs. Thus, Alexion's unique focus on orphan drugs increases the level of revenue uncertainty for the company.
You can limit your exposure to Alexion Pharmaceuticals' unique risks by investing in the iShares Nasdaq Biotechnology ETF (IBB). Alexion accounts for 5.07% of IBB's total holdings.