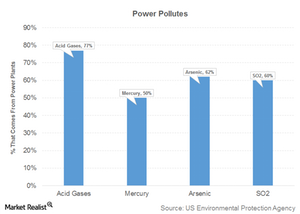 Key for Investors: Understanding the EPA's Clean Power Plan
By Mike Sonnenberg

Updated
The announcement
On Monday, August 3, 2015, President Obama and the EPA (U.S. Environmental Protection Agency) announced the final draft of the CPP (Clean Power Plan). It's the first set of nationwide rules aimed at reducing the emission of carbon dioxide and other pollutants from power plants. The CPP was first announced in June 2014. It targets a 32% reduction in greenhouse gas emissions by 2030 compared to the 2005 level. It will focus on natural gas and renewables and cut down on coal-based power generation. According to the EPA, the reduction is equal to taking 70% of the cars in the US off the road.
The CPP will affect around 1,000 fossil-fuel powered power plants—primarily coal and natural gas—with around 3,100 generation units.
Article continues below advertisement
Why is the EPA targeting power plants?
According to the EPA, power plants are the largest source of carbon dioxide emissions in the US. They account for over 33% of the total greenhouse gas emissions in the US. Coal is under EPA's lens for being the most polluting fossil fuel. Coal accounted for 19% of the overall energy usage in 2013. However, it emitted 32% of total carbon dioxide that year.
Also, power plants emit various pollutants in the air other than carbon. Power plants accounted for 60% and 77% of the total emissions of sulfur dioxide and acid gasses. These pollutants cause acid rain.
Who's affected?
Coal producers (KOL) including Peabody Energy (BTU), Cloud Peak Energy (CLD), and CONSOL Energy (CNX) would be hit the worst by the CPP. The plan seeks to replace coal with cleaner fuels—notably renewables.
Natural gas is expected to gain in the short term, but only until large renewable energy capacities come into play. Over the long term, the EPA's Clean Power Plan provides a great opportunity to renewable energy companies like SunEdison (SUNE) and FirstSolar (FSLR). The impact on each power utility (XLU) largely depends on the current generation mix and ongoing projects. We'll look at the CPP's impact on each technology throughout this series.