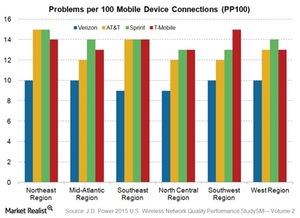 J.D. Power: Verizon's Wireless Rankings Best across the Regions
By Ray Sheffer

Sep. 22 2015, Updated 1:06 p.m. ET
Verizon's J.D. Power wireless rankings
In the last part of this series, we learned about the top-in-class network performance of Verizon (VZ)—according to RootMetrics' 1H15 National results—among the top four US wireless providers. The other US wireless carriers among the top four were AT&T (T), Sprint (S), and T-Mobile (TMUS).
Now we will look at the performance of the telecom company's wireless network according to J.D. Power in 2015. According to Verizon's press release, "For the second consecutive time, Verizon ranked the highest of all U.S. wireless providers, according to the J.D. Power 2015 Wireless Network Quality Performance Study, Volume 2."
The press release also stated, "Verizon's network performance was higher than the industry average in all three quality categories: calling, messaging and data."
As we can see in the above chart, the problems per hundred mobile connections (devices) of Verizon were the lowest in these six regions, which the study took into account. These regions were Northeast, Mid-Atlantic, Southeast, North Central, Southwest, and West.
Article continues below advertisement
Verizon's wireless rankings versus its peers
According to the study, AT&T had the second-lowest score among its peers—including Verizon, T-Mobile, and Sprint—in the Mid-Atlantic region, North Central region, and Southwest region in terms of problems per hundred mobile connections. Verizon, Sprint, and T-Mobile had the same scores in problems per hundred mobile connections in the Southeast region. Also, the scores of AT&T and T-Mobile in this metric were, respectively, the same and lower than that of Sprint in the West region.
Instead of taking a direct exposure to Verizon's stock, you may consider taking a diversified exposure to the company by investing in the SPDR S&P 500 ETF (SPY). Verizon accounted for ~1.1% of the ETF's holdings as of August 31, 2015.