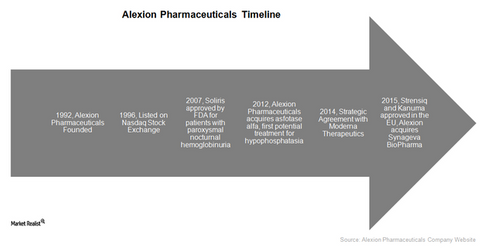 An Investor's Guide to Leading Biotech Company Alexion
By Margaret Patrick

Updated
Overview
Based in Cheshire, Connecticut, Alexion Pharmaceuticals (ALXN) is a leading biotechnology company. The company is involved in developing and delivering innovative therapies for patients afflicted with rare diseases. Alexion Pharmaceuticals has a market capitalization amounting to $39.3 billion. Peers such as Gilead Sciences (GILD), Regeneron (REGN), and Amgen (AMGN) have market capitalizations of about $158.6 billion, $55.9 billion, and $116.7 billion, respectively.
Article continues below advertisement
History
Alexion Pharmaceuticals was founded in 1992 with headquarters in New Haven, Connecticut. The company was listed on the Nasdaq stock exchange in 1996. The year 1998 marked the beginning of the in-human clinical trials for eculizumab, the generic name for Alexion's drug Soliris.
After several rigorous studies, the drug was finally approved by the Food and Drug Administration (or FDA) as well as the European Medicines Agency (or EMA) as the first and only treatment for patients suffering with paroxysmal nocturnal hemoglobinuria (or PNH). In 2011, the label indications for Soliris were further expanded as the drug was approved by both the FDA and EMA as the first and only treatment for atypical haemolytic uremic syndrome (or aHUS). In 2013, the drug was also approved for aHUS in Japan. Additionally, the FDA and EMA granted the orphan drug designation (or ODD) to Soliris for the treatment of neoromyelitis optica (or NMO).
Since Soliris is an ODD drug approved mainly for treating rare diseases, Alexion Pharmaceuticals faces limited pricing restrictions related to the drug. Therefore, Soliris is currently one of the costliest drugs available in the world.
In 2012, Alexion Pharmaceuticals acquired the drug asfotase alfa, the first treatment for patients afflicted with hypophosphatasia (or HPP). This drug was granted the "breakthrough therapy designation" by the FDA and is currently under priority review process. In 2015, Strensiq, whose generic name is asfotase alfa, was approved for HPP in the European Union as well as in Japan. Kanuma, whose generic name is sebelipase alfa, was also approved in the European Union for patients with lysosomal acid lipase deficiency (or LAL-D).
In June 2015, Alexion completed the acquisition of Synageva BioPharma, creating the most robust product pipeline in the rare disease segment. Post acquisition, Alexion has eight investigational drugs being explored for 11 indications as well as 30 research programs in the pre-clinical phase. This acquisition has thus strengthened Alexion's global leadership in the rare disease market.
Investors can get exposure to Alexion Pharmaceuticals' strong rare disease drug portfolio, while avoiding company-specific risks by investing in the iShares Nasdaq Biotechnology ETF (IBB). Alexion accounts for 5.07% of IBB's total holdings.