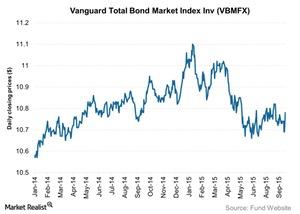 Investment-Grade Bond Yields Fall as Fed Delays Interest Rate
By Lynn Noah

Updated
The September FOMC meeting
Investment-grade bond yields fell as the US Federal Reserve (the Fed) kept interest rates unchanged. The FOMC (Federal Open Market Committee) held its policy meeting on September 16–17.
Janet Yellen, chair of the Fed, cited the following major reasons for keeping interest rates unchanged:
low inflation in the United States
an appreciating dollar
falling commodity prices
uncertainty in China
a slowdown in global growth outlook
However, Yellen was of the opinion that liftoff may happen later this year, depending on how the US economy is performing and how global events pan out.

The Vanguard Total Bond Market Index Fund (VBMFX) provides a broad exposure to US investment-grade bonds. VBMFX invests in investment-grade corporate bonds of companies such as Apple (AAPL), Allergan (AGN), American Airlines Group (AAL), and Oracle (ORCL).
Due to a fall in yields, the weekly returns of the Vanguard Total Bond Market Index Fund (VBMFX) were up by 0.37%.
Article continues below advertisement
Economic indicators and their impact on investment-grade bond yields
Last week, a host of indicators were released. But the one that impacted bond yields were advance retail sales data and Consumer Price Index (or CPI) data.
Advance retail sales were marginally up by 0.2% in August. Lower energy prices and a rise in employment helped consumers spend more.
CPI data were released on September 16 prior to the FOMC meeting. The CPI fell in August by 0.1% month-over-month, mainly because of a drop in gasoline prices. However, on a year-over-year basis, CPI grew modestly by 0.2% in August. The Fed is already worried about subdued inflation, and this CPI data didn't give enough confidence to the Fed to raise interest rates.
Yield movement
Corporate bond yields, as seen by the BofA Merrill Lynch US Corporate Master Effective Yield, ended last week at 3.37%, six basis points lower than the previous week.
We'll be looking at investment-grade corporate debt issuances for the week ended September 18 in detail. But first, let's take a look at how yields on corporate bonds have fared in 2015 so far.