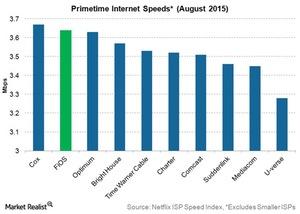 Internet Speeds: Verizon versus Select Large Providers
By Ray Sheffer

Oct. 2 2015, Updated 10:08 a.m. ET
Gauging Verizon's Internet speeds
In earlier parts of this series, we learned about some pay-TV trends according to Verizon (VZ). We also learned about the telecom company's focus on broadband, and how FiOS Quantum Internet service is penetrating the FiOS consumer Internet subscriber base. In this part, we'll look at Verizon's overall Internet offering versus its peers' services.

We'll gauge Verizon's FiOS Internet speeds versus those of some key players by using Netflix's ISP (Internet service provider) Speed Index as a measure. The index is based on prime time Internet speeds that Netflix's users experience during streaming.
Article continues below advertisement
Verizon's Internet speed ranked second on Netflix Speed Index
As we can see in the above chart, in August Cox Communications earned top position for US providers on the Netflix ISP Speed Index. It had an average speed of 3.67 Mbps (megabits per second). Verizon's FiOS was ranked second with an average speed of 3.64 Mbps. Cablevision's Optimum placed third, and AT&T's (T) U-verse placed tenth. It had an average speed of 3.28 Mbps as per the index.
Among the top ten ISPs in the index, only Verizon's FiOS and AT&T's U-verse were telecom companies. The rest of the ISPs were cable companies, such as Time Warner Cable (TWC), Comcast (CMCSA), and Charter Communications (CHTR).
You may take on diversified exposure to Verizon by investing the iShares MSCI USA Minimum Volatility ETF (USMV). The ETF held ~1.4% in the telecom company at the end of August 2015.