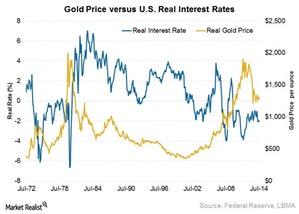 Interest Rates and Their Relationship to Gold Investments
By Meera Shawn

Sep. 25 2015, Published 7:02 a.m. ET
FOMC meeting
Gold as an investment class has a likely inverse relationship with federal funds interest rates. With the recent conundrum over the Federal Reserve policy meeting and the FOMC's (Federal Open Market Committee) decision to delay a hike in interest rates, we saw gold prices surge.
Interest rates are the returns an investor receives from a security such as a Treasury note, Treasury bond, or Treasury bill. If interest rates had taken off beyond the 0% mark, investors and hedge funds would have likely flooded the interest-bearing asset. This could push gold prices below their current support level of ~$1,100 per ounce. Below is a chart of real interest rate versus gold prices.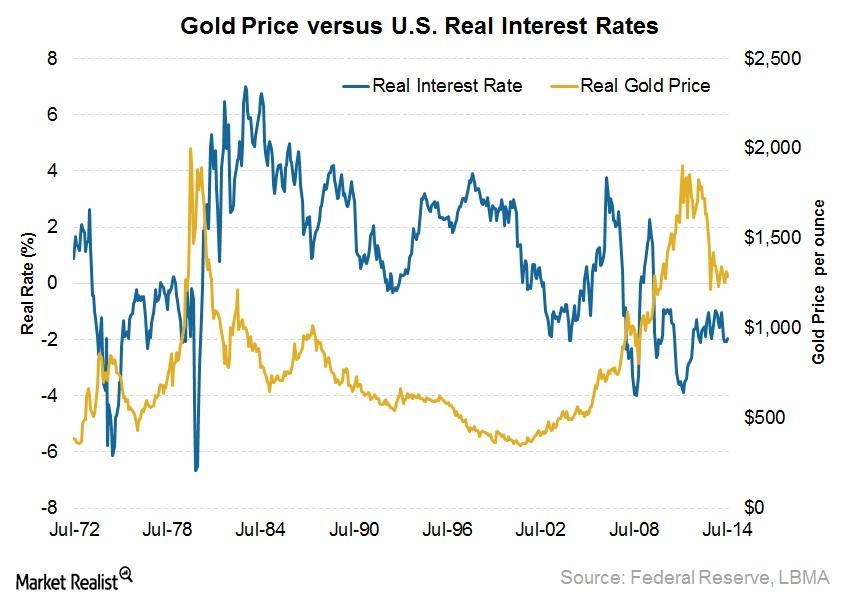 Article continues below advertisement
Central bank's role
A country's central bank has several fiscal tools that allow it to control the economy, primarily by influencing interest rates or by printing money, adding to the existing money supply. Whereas increasing interest rates causes downward pressure on gold prices, printing money can cause inflation that may increase gold prices against the country's currency. Why would the central bank resort to influencing the economy?
Spending is a core element of the economy. Credit aids spending, which also drives the economy. Increased spending gives rise to income. In an economic cycle, one person's spending is another person's income. More income leads to more borrowing, creating a supply of more creditworthy borrowers with a demonstrated ability to repay, as well as higher collateral backing.
Article continues below advertisement
Inflation and deflation cycle
However, if spending rises more rapidly than production (total spending/total production = price), prices tend to rise and lead to inflation. High inflation leads central banks to raise the interest rates, which discourages less-qualified borrowers who can't afford credit with higher interest rates. So, less borrowing leads to less spending, leading to less income and revenue, and a downturn in the economy.
The greater the severity of a downturn in the economy, the greater the chance of causing a state of deflation. Severe deflation can lead to a recession, so central banks lower interest rates, causing expansion. These short-term debt cycles typically last five to eight years.
The cyclical movement in interest rates can affect gold prices as well as other precious metals. Equity securities like Sibanye Gold Ltd. (SBGL), Iamgold Corp. (IAG), New Gold Inc. (NGD), and Yamana Gold Inc. (AUY) can be substantially impacted by changes in the price of gold. SBGL, IAG, NGD, and AUY together make up ~9.5% of the VanEck Vectors Gold Miners ETF (GDX).
Other mining ETFs like the SPDR S&P Metals and Mining ETF (XME) and the VanEck Vectors Jr. Gold Miners ETF (GDXJ) also follow changes in gold prices.