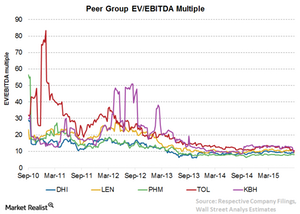 Insights from Toll Brothers' EV-to-EBITDA Multiple
By Peter Barnes

Updated
EV-to-EBITDA ratio
The EV-to-EBITDA (enterprise value to earnings before interest, taxes, depreciation, and amortization) multiple is widely used as a valuation tool for homebuilding companies. For these companies, EV-to-EBITDA is considered a more appropriate valuation tool than PE (price-to-earnings) ratio.
Let's consider the EV-to-EBITDA ratio before we compare EV-to-EBITDA to PE. Enterprise value (or EV) comprises the market value of equity and the market value of debt less cash and cash equivalents. The EV-to-EBITDA ratio values the worth of the entire company, focusing solely on equity.
Article continues below advertisement
Why is EV-to-EBITDA preferred over PE ratio?
Companies that raise debt to fund operations will have a lower PE ratio than companies that raise the similar amount of equity, even though the two companies have equivalent enterprise values. Companies with a lower PE ratio look cheaper than companies with higher PE ratios.
In the case of PE multiples, a company with a substantial amount of debt looks cheaper, while a company with less debt and higher equity looks pricey. Homebuilding is a capital-intensive business, and most homebuilders need to raise relatively high debts to fund their operations. Because of this, EV-to-EBITDA is a more appropriate valuation than PE for homebuilding companies.
Peer group comparison
A closer look at Toll Brothers' (TOL) EV-to-EBITDA multiple shows that the company is currently at the lower end of its historical valuation. Over the past five years, Toll Brothers' (TOL) EV-to-EBITDA ranged between 10.5x and 83.4x, with a current EV-to-EBITDA multiple of ~10.5x. Toll Brothers (TOL) recorded its highest multiple in 2011. Its current valuation is the lowest it has been in over five years.
Toll Brothers' (TOL) lower valuation in 2015 is attributable to management's less favorable growth outlook as well as the company's gross margin performance during its 4Q14 earnings call. Other factors, such as lower average sales prices in 1Q15 and 2Q15 and declines in gross margins, also affected Toll Brothers' (TOL) stock.
Despite this, Toll Brothers (TOL) is still trading at a higher EV-to-EBITDA multiple than most of the players in its peer group. The other major competitors such as Lennar (LEN), D.R. Horton (DHI), PulteGroup (PHM), and KB Home (KBH) are trading at lower EV-to-EBITDA multiples of 9.19x, 9.27x, 7.97x, and 9.8x, respectively.
Investors looking for diversification in the homebuilding sector can consider ETFs like the SPDR S&P Homebuilders ETF (XHB) and the iShares US Home Construction ETF (ITB). Toll Brothers (TOL) forms 7.78% of the holdings of the iShares US Home Construction ETF (ITB).
In the next part of our series, we'll discuss strategies for investing in homebuilding companies through ETFs.