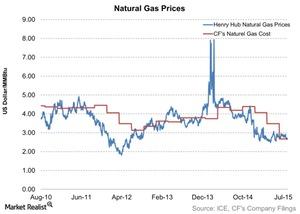 The Importance of Natural Gas Movements for CF Industries
By Adam Jones

Updated
Natural gas
Natural gas is the most important input material for making nitrogen-based fertilizers such as ammonia, and urea. In 2014, natural gas represented 52% of the costs for producing nitrogen fertilizers at CF Industries (CF).
According to the chart above, the average cost of natural gas for CF has lagged behind the market price.
However, the company hedges 70% of its natural gas requirements, which locks the price of natural gas and protects the company from abnormal spikes.
For example, in 2013–2014, CF was able to keep its average cost at $4.03 per MMBtu, compared to $4.72 per MMBtu in the market.
The natural gas stockpile currently stands at 3,099 billion cubic feet, according to the weekly natural gas inventory report issued by the US Energy Information Administration, or EIA.
This is 18.4% higher than in 2014 and 2.9% higher than the five-year average inventory.
As a result of this oversupply, which increases the inventory of natural gas, prices have fallen 8% year-to-date.
The current (as of August 27) Henry Hub spot prices for natural gas stood at $2.68. What does the rest of the year hold for natural gas?
Article continues below advertisement
Outlook
The chart above shows CF's hedges in place through 2017.
For a company such as CF, it's important to hedge its natural gas requirements, as natural gas prices can be highly volatile. Currently, CF forms 3.7% of VanEck Vectors Agribusiness ETF (MOO).
According to Citigroup, natural gas prices for the current year should average $2.70, and for 2016 they should average $3.00. The current year-to-date daily average is $2.80.
How do lower fertilizer prices, shipments, and natural gas costs impact CF's gross profits? We will cover this next.