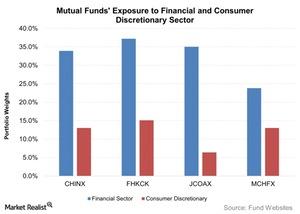 Impact of the Slowdown in China's Retail and Financial Sectors
By Lynn Noah

Nov. 20 2020, Updated 5:26 p.m. ET
Retail sales are down month-over-month
Retail sales of consumer goods are declining. Sales growth dropped to 10.5% in July from a rise of 10.6% in June. The primary reason for this was lower demand from consumers as they reduced spending on non-essential items such as luxury goods, leisure, and travel.
China-focused mutual funds such as the China Fund Class I (CHNIX), the Fidelity China Region Fund Class C (FHKCX), and the Matthews China Investor Class (MCHFX) have more than 10% exposure to the consumer discretionary sector. The John Hancock Greater China Opportunities Fund Class A (JCOAX) has lower exposure of 6.4%.
Consumer discretionary stocks such as Jumei International (JMEI), Bona Film Group (BONA), Ctrip.com International (CTRP), and JD.com (JD) are down. The overall performance of these mutual funds are thus adversely affected.
Article continues below advertisement
Overheating in the financial sector
The financial sector is the largest sectoral component of all four mutual funds. So how the sector performs will have a major impact on the returns of these funds.
There's already overborrowing due to readily available loans. According to the People's Bank of China (or PBoC), the new yuan loans increased by 1.48 trillion yuan in July, which was 1.61 trillion yuan more than the growth in the same period last year. This figure indicates that debt burden is rising and that there's the possibility the economy may fall into the debt trap.
Meanwhile, aggregate financing has decreased according to the PBoC, which depicts a downward trend in the financial sector. The recent currency devaluation could also result in capital flight from China to other countries where investors can get better returns.
However, the Chinese central bank's recent cut in the benchmark lending rate may help companies come forward to borrow more. But due to a slack in demand, there's a dim possibility of a rise in borrowing in the near term.
Turbulent markets
Overall, the FHKCX, which has the highest exposure to the financial and consumer discretionary sectors, will be most adversely affected due to the slowdown in these two sectors. The MCHFX, which has lower exposure to the financial and consumer discretionary sectors, would be somewhat poised to perform better than the other three mutual funds mentioned here.
However, investors should note that in turbulent markets, uncertainty is high, and past performance is no guarantee of future performance.