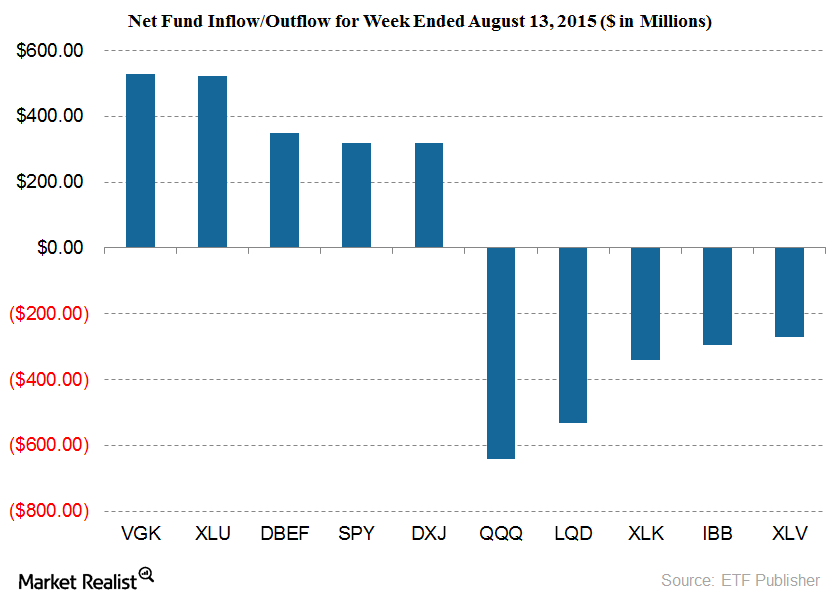 Huge Fund Outflows in Tech ETFs Last Month
Investors upbeat about international ETFs
Last month, investors took a liking towards international ETFs over domestic ETFs, particularly in the week ended August 13, 2015. International ETFs saw fund flows to the extent of $1.4 billion despite market volatility and decline triggered by China's currency devaluation that negatively impacted global markets.
In the above chart, you can see that demand for ETFs with exposure to European and Japanese equities was high and clearly stood out. The Vanguard FTSE Europe ETF (VGK), the Deutsche X-trackers MSCI EAFE Hedged Equity ETF (DBEF), and WisdomTree Japan Hedged Equity ETF (DXJ) saw fund inflows of $530.14 million, $350.03 million, and $317.82 million, respectively.
Article continues below advertisement
The iShares Core MSCI Emerging Markets ETF (IEMG) saw net flows of $172 million in the week ended August 13, 2015. Currently, the fund's asset gain stands at $1.8 billion for 2015. It's interesting to note that IEMG has seen a net flow in the last month despite the fund's 23% exposure to Chinese stocks this year. However, IEMG has fallen 13% year-to-date.
Tech ETFs witness fund outflows
In the week ended August 13, 2015, technology ETFs such as the PowerShares QQQ ETF (QQQ), the Technology Select SPDR ETF (XLK), and the iShares Nasdaq Biotechnology ETF (IBB) saw net fund outflows of $-640.79 million, $-340.40 million, and $-294.45 million, respectively.
Stocks in the technology sector are currently in a slump due to a variety of macroeconomic factors such as declining global personal computer sales, a strong US dollar, and declining demand in China that primarily affected Apple's (AAPL) stock price last month.
The top holdings of QQQ include tech heavyweights like Apple (AAPL), Microsoft (MSFT), and Google (GOOG), which comprise 15.41%, 7.19%, and 3.57% of the ETF, respectively.