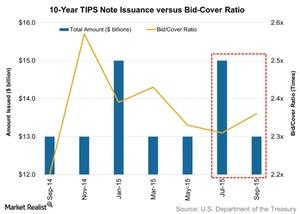 High Yield Rose Due to the 10-Year TIPS Auction
By Lynn Noah

Sep. 21 2015, Published 2:07 p.m. ET
What are TIPS?
Nominal bond yields rise due to higher inflation expectations. TIPS (Treasury Inflation-Protected Securities) protect the value of debt securities from eroding due to inflation. A TIPS principal is indexed to the CPI (Consumer Price Index). The TIPS principal rises with inflation and falls with disinflation.
On maturity, an investor is paid the greater of the adjusted principal or the TIPS original principal amount. The coupon payments on TIPS are applied to the adjusted principal. As a result, the coupon payments on TIPS provide the bondholder with a fixed amount of purchasing power.
Article continues below advertisement
Key takeaways of the ten-year TIPS auction
The U.S. Department of the Treasury auctioned ten-year TIPS worth $13 billion on September 18. The amount was $2 billion lower than the July 23 auction.
The overall demand for the securities rose by 2.20% from the previous auction with the bid-to-cover ratio of 2.4x on September 18.
The coupon rate came in at 0.375%—the same as the previous auction.
Yield analysis
The high yield came in at 0.60%. It was higher than the 0.49% reported in July's auction. So far, this rate is the highest in 2015. It's also the highest since the auction in November 2014.
Article continues below advertisement
Market demand barely rose
The market demand rose only marginally compared to the July auction. Direct bids fell sharply from 8.20% in July to 0.80% of the total competitive accepted bids in September. Direct bids include bids from domestic money managers like Invesco (IVZ) and BlackRock (BLK). Indirect bids include bids from foreign governments. They rose from 64.80% in July to 73.20% in September.
Due to slightly higher market demand, the primary dealer uptake fell from 27% in July to 26% in September. Primary dealers are a group of 22 authorized broker-dealers. They're required to bid at US Treasury auctions. They include firms like Morgan Stanley (MS) and Nomura Holdings (NMR).
Investment impact
Investors can get exposure to TIPS through investing in mutual funds. The following mutual funds invest in TIPS.
The Vanguard Inflation-Protected Securities Fund Investor Shares (VIPSX) invests ~31% of its assets in TIPS with maturities in the range of seven to ten years. The fund provided a week-over-week return of 0.23%
Similarly, the Fidelity Inflation-Protected Bond Fund (FINPX) invests ~26% of its assets in TIPS with maturities in the range of seven to ten years. The fund's weekly return came in at 0.25%.
In the rest of this series, we'll look at the Treasury bills, or T-bills, auctions that took place last week.