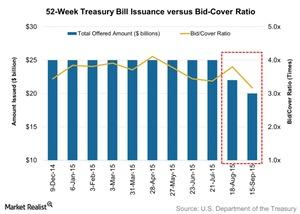 High Discount Rate Rose and Demand Fell for 52-week T-Bills
By Lynn Noah

Sep. 21 2015, Published 1:07 p.m. ET
52-week Treasury bills auction
The U.S. Department of the Treasury auctioned $20 billion worth of 52-week Treasury bills, or T-bills, on September 15, 2015. T-bills mature in one year or less. They're at the very short end of the yield curve. Other Treasury securities like Treasury notes, or T-notes, and Treasury bonds, or T-bonds, are issued for longer maturities.
Article continues below advertisement
Key takeaways
The auction was held on September 15
The auction size was set at $20 billion— $2 billion lower than August auction.
The issue's high discount rate was 0.44% – higher than 0.41% in the August 18 auction. This rate is the highest in 2015 yet.
Overall demand tanks
The overall demand for the 52-week T-bills fell in the September auction. The bid-to-cover ratio fell 16.60% to 3.2x month-over-month. Since 2014, this was the lowest ratio recorded for 52-week T-bills. The ratio averaged 4.2x in the auctions held in 2014. So far in 2015, the ratio has averaged 3.7x.
Bid-to-cover ratio measures the overall demand for the auction. The lower the ratio, the lower the overall demand for the auction and vice versa.
Article continues below advertisement
Market demand falls
Like the overall demand, the market demand for the 52-week T-bills also fell from a month ago. The auction saw market demand fall to 32.30% of the competitive accepted bids in September—from 52.80% in the previous auction. The fall was due to lower indirect bids.
The indirect bidders' category includes bids from overseas governments. The allotment to this category nearly halved to 26.40% in September from 51% in August. Direct bids include bids from domestic money managers like Invesco (IVZ) and Wells Fargo (WFC). The percentage of direct bidder allotments rose to 5.90% in September from 1.80% in the August auction.
Due to lower market demand, primary dealer bids were higher at 67.70% in September—from 47.20% in the previous auction. Primary dealers include companies like Credit Suisse (CS) and Goldman Sachs (GS).