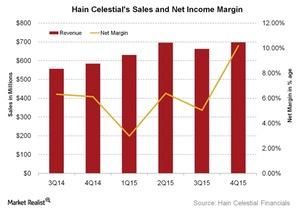 What Were Hain Celestial's Achievements in Fiscal 2015?
By Sushree Mohanty

Updated
Acquisitions and innovations
Hain Celestial (HAIN) highlighted several of its accomplishments during fiscal 2015.
It completed three strategic acquisitions: Hain Pure Protein Corporation—Plainville Farms and FreeBird brands, EK Holdings—Empire, Kosher, and Kosher Valley brands, and Belvedere International—Live Clean brand.
It recorded $2.7 billion of worldwide sales.
It recorded adjusted EBITDA (earnings before interest, tax, depreciation, and amortization) of $375 million.
Hain Celestial's US consumption was measured by Nielsen in the top 200 SKUs (stock keeping units). It rose 11%. Its distribution rose 5%.
It introduced over 200 new innovative products worldwide.
It delivered more than $55 million in worldwide productivity savings.
The net sales in the US rose 3% YoY (year-over-year) to $332.8 million in the quarter. The net sales in the United Kingdom fell 7.80% to $184.90 million. Its operations in the rest of world witnessed a 2.70% rise in net sales to $62 million. Hain Pure Protein Corporation (HPPC) was acquired in July 2014. It reported net sales of $118.5 million.
Article continues below advertisement
"Our outlook for growth in fiscal 2016 and beyond remains robust. We believe Hain Celestial is well-positioned as the consumption of branded organic, and natural products continue to rise and our distribution footprint further evolves on a global basis in both new and existing markets across our broad network of sales channels," concluded Irwin Simon—the company's founder, president, and CEO.
Outlook for 2016
Hain Celestial provided annual guidance for fiscal 2016.
The total net sales range from $2.97 billion to $3.11 billion—a rise of ~10%–15% compared to fiscal 2015.
The earnings range was $2.11–$2.26 per diluted share. This was a 12%–20% rise compared to fiscal 2015.
The company had good sales growth for the 20th quarter, despite the problems it faced from currency headwinds. It mainly benefited from its core brands and the profit from its acquisitions.
Its competitors in the personal care segment include Clorox's Burt's Bees (CLX). It recorded positive YTD (year-to-date) returns of 6.68%. Its other peers like Flowers Food (FLO) and PepsiCo (PEP) reported YTD returns of 20.95% and -1.72%, respectively. The Power Shares S&P 500 Low Volatility ETF (SPLV) invests 0.98% and the SPDR S&P 500 ETF Trust (SPY) invests 0.08% of their holdings in Clorox stock.