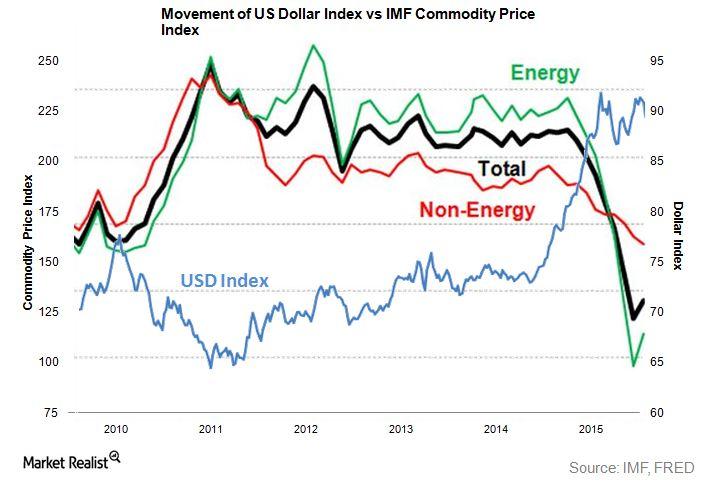 Government Infrastructure Spending is Key to Commodities Demand
Poor global economic growth
The recent muted economic growth forced many countries to revise their GDP numbers and trim their guidance. The slowing economy has subdued the demand for energy, industrial metals, and agricultural commodities. In the case of crude oil, oversupply from OPEC (Organization of Petroleum Exporting Countries) and falling demand from China and the United States led to the fall of crude oil correcting ~60% in a span of just one year.
Article continues below advertisement
Oil refiners like Marathon Oil (MRO) and Tesoro Corporation (TSO) benefited during this oil price drop due to minimized feeding costs. Below is a chart illustrating how the International Monetary Fund (or IMF) commodities index reacted historically to the United States dollar index. A strong dollar makes the commodities more expensive.
Savings glut
Savings exceeding investments is an important factor in this vicious slowing economic growth cycle. Fund managers see more contribution to this savings glut from emerging countries like China, Brazil, and Europe. It may result into a much lower demand and further weaker economic growth.
Article continues below advertisement
Oversupply is the main concern
The supply–demand imbalance is driving the commodities prices southward. Tepid growth in Europe and China has marred infrastructural spending, which is negative for industrial metals. Falling prey to the sagging demand, the world's largest fertilizer producer, Potash Corp. (POT) and agribusiness giant Bunge Ltd. (BG) also took a severe hit in earnings.
Why is China so important?
China (GXC) started spending aggressively on infrastructure in early 2000, leading to the commodities super cycle. China is the largest consumer of commodities like steel, coal, gold, and copper, as well as 12% of global oil consumption.
The recent fall in Chinese markets and the hurried intervention by regulators to boost the economy indeed created a global shockwave. Fund managers should be desperately waiting for a revival in commodity prices so that the mutual funds scorecard again turns green.